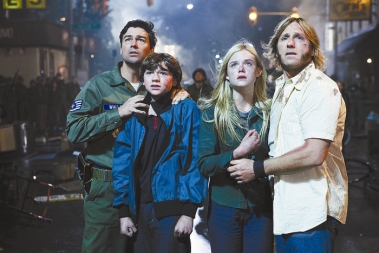 惊悚科幻片《超级8》
    Directed by J.J. Abrams, the film is produced by Steven Spielberg.
    Half a dozen middle-school children set out to make a student film in 1979 Ohio and end up trapped in something much bigger and scarier*.
    Though the directors have been good friends for a long time, their styles do not match.
    Old-fashioned and entertaining, "Super 8" plays more like a family film than an action movie by Abrams, best known for films like "Mission: Impossible III*" and "Star Trek*."
    Very much like Rob Reiner's "Stand by Me," "Super 8" has six 14-year-olds as a group protagonist*. Like teenagers everywhere, they provide both frustration* and fun.
    Sadly, frustration comes first. The boys gather after Joe Lamb's (Joel Courtney) mother died in a steel mill accident. The childish way these boys talk with each other is standard issue teen behavior*. Only the fact that they would gather at midnight to shoot* a Super 8 short at the local train station gives them any interest at all.
    That film's director, Joe's best friend, Charles (Riley Griffiths), wants his zombie thriller* for the Cleveland International Super 8 Film Festival. Charles asks pretty classmate Alice (Elle Fanning) to be in the movie, not realizing that she is the girl of Joe's dreams.
    Both Fanning and Courtney gave a strong performance as Alice and Joe, teens who manage to be sweet and natural both together and apart.
    Most of "Super 8," however, has other things on its mind, starting with a truly spectacular* train crash that happens right in front of that Super 8 camera because of director Charles' never-ending quest* for "production value" for his midnight short.
    Something unseen escapes from that train, and before you know it, all kinds of strange and mysterious* things happen to the town. Colonel Nelec (Noah Emmerich) leads Air Force troops to deal with the situation, whose rude behavior angers the town's deputy sheriff*, Jackson Lamb (Kyle Chandler), who is Joe's father.
    The problem with "Super 8" is not how much there is to complain* about but how little there is to be excited about. (SD-Agencies)