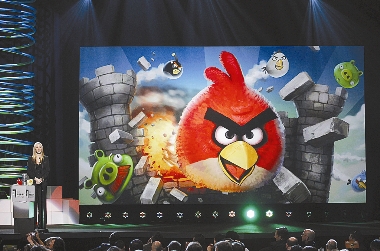 韦比奖出炉 《愤怒的小鸟》获最佳掌上游戏
    Humor, online hits and social good mixed at the Webby Awards — the Internet industry's version of Hollywood's Oscars.
    Addictive* game Angry Birds along with the inventor* of the mobile phone were among those honored at a ceremony late Monday. Winners had to give acceptance speeches in five words.
    "Sometimes, geeks* can be chic*," Vogue magazine Editor-in-chief Anna Wintour said after actor Daniel Radcliffe from "Harry Potter" film presented her with a Webby for best fashion Web site.
    IBM computer "Watson," known for beating top human players on television game show "Jeopardy!*," was named "person of the year" at the 15th annual Webby Awards.
    "Person of the year, ironic*," a computerized voice speaking for the machine said while receiving a Webby from show host actress Lisa Kudrow, who suggested the machine jazz up its image by dating* an iPad.
    "That was clever," Kudrow said. "You're quite the word processor*."
    At more serious moments, awards paid tribute to Egyptian protesters who used Twitter and Facebook in an uprising to oust* Egyptian President Hosni Mubarak and an Ushahidi service launched to map violence that followed a 2008 election in Kenya.
    "Injustice, oppression, social media equals revolution," Egyptian filmmaker Mohamed Diab said in accepting a Webby dedicated to* his people. (SD-Agencies)