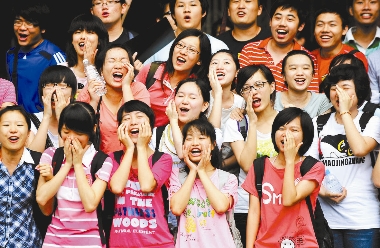 高考结束 学生的血拼假期到来
    College candidates are on a spending spree to celebrate the completion of the National College Entrance Examination (NCEE).
    In the world's largest standardized college entrance examination, more than 9 million students faced the make-or-break test last week.
    Now that it is over, students are sparing intent on relaxing. Cross-country and international travel, minor plastic surgery and graduation dinners are planned. And businesses are ready to profit from the times.
    The tourism industry is one of the top beneficiaries because the number of student travelers usually peaks in the two-month, post-exam period.
    To cater for college candidates and their parents, many travel agencies are offering special travel programs. In some scenic spots, discounts are being offered to students with proof of admission to the exam.
    Tours to foreign universities attract many students. To facilitate those who want to travel abroad, some police stations in Beijing have opened special counters to handle passport formalities.
    Prospective college students are also keen to improve their looks. Minor plastic surgery is popular with girls and boys because they believe their appearance will be helpful at university and for future job prospects.
    "They want to enter college looking beautiful, and the summer vacation is long enough to recover from minor surgery," said a Yaliang Hospital consultant surnamed Ren in Beijing.
    Many students had inquired about plastic surgery such as nose reconstruction, acne removal and eye lifts priced at between1,800 yuan (US$276.9) to 15,000 yuan.
    Restaurants are also busy this time of year. A graduation dinner costs from several hundred yuan to 2,000 yuan. Discounts and souvenirs are promoted to entice students and their parents.
    Electronic products are popular with graduates. "Computer buyers have increased recently. We now sell several laptops a day," said a salesman surnamed Wang at Dinesh Digital Square in Beijing.
    He said many students were buying digital products such as computers, mobile phones and digital cameras.(Xinhua)