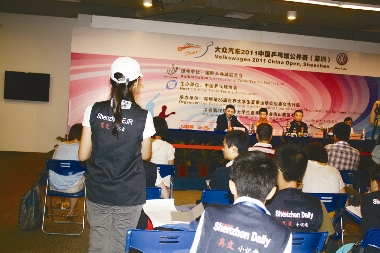 吴中杰 深圳实验初中初二(2)班
    July 19 was the last day of the 2011 Volkswagen China Open table tennis tournament at Shenzhen Bay Sports Center. The men's singles final was Ma Lin against Ma Long. Ma Lin beat Ma Long 4-2 and became champion. We junior English reporters went to the game.
    The match was so exciting that I couldn't take my eyes off it. At times it was close and went on for much longer than expected. Afterwards, we interviewed Ma Lin and Ma Long.
    "It's a large-scale games venue and makes me feel great," Ma Lin described Shenzhen Bay Sports Center.
    When we asked how they first got into playing table tennis, Ma Long answered that it was originally for exercise. He never thought he could have been playing table tennis for such a long time, but now he just doesn't want to give up. Lastly, he expressed good will to his father on Father's Day.