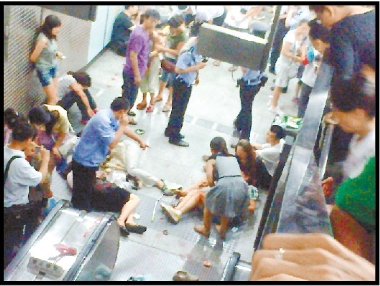 Escalator accident
    One person died and 28 were injured — two seriously — when an escalator* failed at a Beijing subway station last Tuesday.
    A 13-year-old boy on the way to the zoo with his father and sister was killed. The incident happened at 9:36 a.m. at Zoo Station on Line 4, the Beijing Municipal Government information office said.
    Witnesses said the rising escalator suddenly reversed*, causing more than 20 passengers to fall.
    Expat killed
    A Pakistani was confirmed to have been killed in a traffic accident while drunken driving in Shenzhen on early Friday.
    Jawaid Kamil was burned to death in his BMW when his vehicle ran into the back of a cleaning vehicle on the Chunfeng Flyover on Binhe Road in Luohu District.
    Kamil, 34, a businessman in Shenzhen, was on bail* for an earlier drunken driving offense.
    Inflation surge
    Big increases in food costs sent inflation on the mainland spiraling* to a three-year high last month.
    The consumer price index (CPI) rose to 6.4 percent, up sharply from the 5.5 percent in May and well above the government's annual target of 4 percent, the National Bureau of Statistics said on Saturday.
    Yao's retirement
    Yao Ming's American agent would not confirm reports that the Houston Rockets' All-Star center is retiring, saying Yao has scheduled a July 20 news conference in Shanghai to reveal his plans.
    Word of Yao's retirement triggered a frenzy* in China. Thousands of fans flooded online forums on Saturday reacting to the news.
    (SD-Agencies)