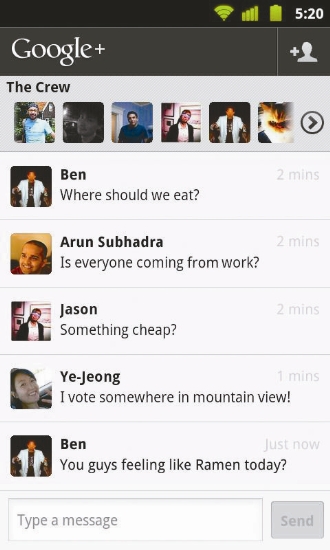 社交网络Google+热度不减
    Is there room for yet another social network? Google seems to think so. In the past few weeks, some have been invited to get an early look at Google+, a new spin* on social networking. And there are big mobile-specific implications.
    Android users can begin by downloading a smart phone app available for those invited to Google+. An iOS one is going through Apple's approval process, but today we'll take a look at the good and bad sides of Google's Android app.
    Running around
    in circles
    On the positive side of things, the app pretty much mirrors the experience on the Web site, but with a few major differences. One of the advantages of Google+ is its ability to put friends into "Circles." That way, you can separate work colleagues from family friends. You can also see either a full stream of everyone in all your Circles, or simply choose to view just updates from specific circles. You get to choose who goes in your Circles and how you build them. The app, however, only lets you view a single stream of everyone in your Circles, so hopefully with future updates, this functionality will be improved so you can be more selective like on the Web site.
    One feature of the Google+ Android app is the ability to use your location and see who's been updating their stream nearby.
    The app also allows you to start "Huddles," just like on the Web site. Huddles are like group chats between certain circles of friends. The app lets you tweak your Circles too, though the interface is a little less intuitive than the Web site. At the same time, however, many have already complained* that Circles can be tough to manage on Google+, especially if you want to delete* or move people around.
    Smile, please!
    The photo sharing abilities of the Google+ app are probably its most interesting feature. Within the settings, users can decide to upload every image they shoot with their Android device directly to Google+ instantly*. But don't worry — they don't just appear in your public stream, or we could be in trouble. They go to a private folder, and users can choose whether they want to share them with Circles or make them public to all. This instant upload feature is seamless* and perhaps a little quicker than uploading and then posting images to Facebook and Twitter. (SD-Agencies)