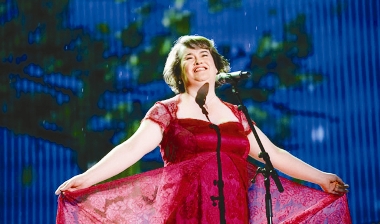 苏珊大妈首登中国舞台
    Susan Boyle is in China. This time she's here for real.
    The 50-year-old Scottish singer appeared on stage at the Shanghai Stadium on Sunday night, where she attended the finals of the 2011 "China's Got Talent" series as a guest performer. She sang two of her signature songs, "Who I Was Born to Be" and "I Dreamed a Dream."
    Boyle was wearing a bright red dress designed with both Scottish and Chinese elements. She said the dress was tailor-made* for the occasion.
    The singer became an international sensation* after impressing judges and audiences while competing in "Britain's Got Talent" in 2009. She told her Chinese counterparts: "Do your best and enjoy it."
    The 2011 "China's Got Talent" champion was 19-year-old Zhuo Jun, a self-taught body-popping dancer from a small village in South China's Guangxi Zhuang Autonomous Region.
    Sunday's performance was Boyle's stage debut in China. When asked about her impression of China, she said the people are very friendly.
    Boyle was reportedly invited to sing in China at a New Year's gala held by a regional TV station last December. The TV broadcaster announced the news and showed a contract signed with Boyle's name. But as fans eagerly awaited, Boyle eventually failed to show up.
    (SD-Agencies)