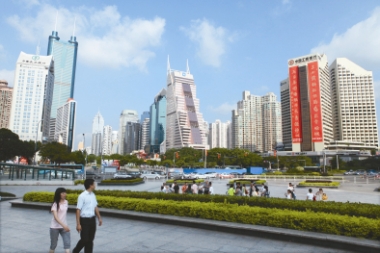 陈伟儿 深圳职业技术学院医护学院09护理1班
    Everybody knows the old saying: "Fortune favors the brave." It means that proactive people have more chance of being successful.
    Shenzhen is undoubtedly a city full of brave people.
    Before the reform and opening-up of China, Shenzhen was just a small fishing village.
    Since then, great and dramatic changes have taken place here. Shenzhen took every opportunity to develop and flourish. Nowadays, Shenzhen is a highly developed city. There are an ever increasing number of people from around China, even the whole world, hunting for jobs in Shenzhen.
    As a result, it has become one of the engine rooms of China's economy. Shenzhen has a lot of outstanding people doing great work.
    As the saying goes, the most important thing in life is not the triumph but the struggle. The essential thing is not to have conquered, but to have fought.
    So China, especially Shenzhen, never spares effort in struggling for a brighter future. Shenzhen cherishes every opportunity.
    This year is special for Shenzhen, because the 2011 Universiade will be held here. Now we can see the environment in Shenzhen is getting better due to the collective effort of its citizens. People are getting ready for this great event, whether they are young or old, rich or poor. They are all expecting it to make Shenzhen more beautiful and energetic, and in all, a better place to live.
    So long as we keep contributing to the Universiade, it will be a truly historical event.