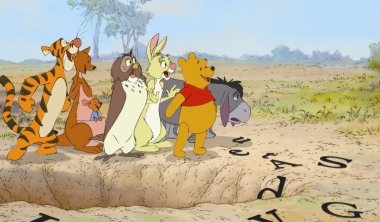 迪士尼卡通片《小熊维尼》
    A good story rather than a collection of segments* in the manner of "The Many Adventures of Winnie the Pooh" in 1977, this gentle remake of A.A. Milne's characters may have set a Hollywood record of sorts: It's 69 minutes long, including 10 devoted to the credits, meaning that 14.5 percent of the running time details who worked on the film, including production staff.
    Whether or not Disney Animation always wanted the feature proper to be under an hour, the film will be a first weekend matinee* choice for some preschooler* families.
    So nice are the soft, simple scenes of the English countryside in E.H. Shepard's original Pooh illustrations that revisionist* versions would be unthinkable.
    Directors Stephen J. Anderson and Don Hall (director and a writer, respectively, on "Meet the Robinsons") do nothing to rock the boat, offering rich, beautiful visual backdrops* for the mild antics* of the familiar characters.
    And familiar they are, for anyone who's been on the planet for more than four or five years.
    Pooh's continuous search for bottomless amounts of honey and Eeyore's worry over having lost his tail have limited resonance*, as do the repetitive* misspellings that dot the landscape.
    Unlike some other characters from children's literature and cartoons, Milne's sweet and gentle creations seem like little more than stuffed animals given voice and are loved by humans still attached to* the likes of teddy bears and other cuddly sleepytime companions.
    The music, too, represents a throwback, both the new compositions and the retreads* of Sherman Brothers tunes dressed up with new vocals by Zooey Deschanel. Little kids will enjoy it all, while parents, when not checking their cell phones, will be thankful for the thoughtfully brief running time.
    The animated film features the voices of Jim Cummings, Craig Ferguson, John Cleese and Tom Kenny and songs sung by Zooey Deschanel.
    (SD-Agencies)