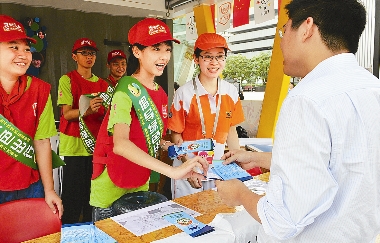 深圳中学生利用假期服务大运
    Wang Yuanyuan
    Middle school students who had been busy attending classes have now started serving at the 750 U stations.
    "We really want to be Universiade volunteers, but were very busy at school before the holiday. Now that the semester has ended, it is the best possible way to spend our time," said Lin Lihong, a Junior 2 student from Lixiang Middle School.
    It is Lin's first experience of volunteering. Because almost all students over 14 had applied to become Universiade volunteers, the selection requirements were strict.
    "There are only four classes at school allowed to serve the Univerisade, I am so excited that I am one of them," she said.
    Lin's primary duty is to provide guidance and information to pedestrians, give directions and introduce them to the Universiade.
    "I have read a lot of material about the Universiade and learnt how to deal with people from different countries and cultures. I have also been practicing my English so that I can communicate well with foreigners. This is a precious chance because I can not only make my own contribution to the great event but also gain experience of society. I will try my best to be an outstanding volunteer and let the visitors appreciate the capacity of Shenzhen's middle school students," she said.
    "It is a great chance for students to enhance themselves and gain life experience. For most of the students, it is their first time to do voluntary work so some are very shy. We just guide and teach them, hoping they will learn through experience," said Wang Hong, a teacher from the school.
    All 750 U stations across the city have been in operation since July, with most of the volunteers being middle school students. Among the 114 U stations in Nanshan District, middle school volunteers served at 71 stations.
    "Work at the station is not difficult, but the volunteers have thrown themselves into their work with great enthusiasm. We think they are fully capable of providing excellent service," said Zhang Zhihua, an official from the volunteer department of the Universiade.
    Apart from middle school students, more than 20,000 students from Shenzhen University and more than 10,000 students from Shenzhen Polytechnic were also busy working at different areas in the city, such as the sports venues, Metro stations and checkpoints.