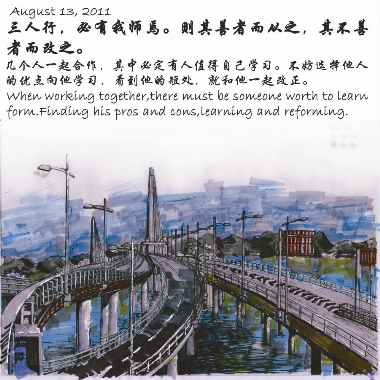 做挂历 迎大运
    Han Ximin
    To commemorate the 2011 Shenzhen Universiade, the newly graduated students of Natou High School, who will go to college this September, are busy this summer making Rising Star Calendars and giving them to college students competing in the Games in August.
    The calendar, which consists of 31 hand-made illustrations of Shenzhen's landmark buildings, tourist resorts, cultural relics, traditions and 31 well-known quotations from the analects of Confucius in both Chinese and English, will be handed to the athletes.
    "I think us high school students should do our bit for the Universiade. I want international guests to remember Shenzhen when they see the 2011 calendar," Zhang Tuo, a student of Nantou High School who initiated the program.
    The illustrations took the more than 20 students a day to finish. The students translated the quotations of Confucius into English under the guidance of teachers.
    The calendar also includes the Metro maps of Shenzhen, the signatures of some Universiade champions. Zhang planned to print 26,000 copies and give them to the dignitaries, VIP and athletes from different countries.
    The student team also includes He Minghao, who had been recruited by South University of Science and Technology of China, and Zhao Li, who had been recruited by Pomona College in the United States.