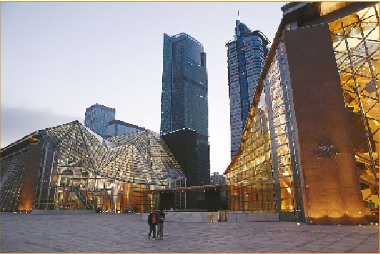 Wang Liu, Beijing International Studies University
    It was 11 o'clock in the evening. Thirty minutes ago I was in Bao'an Airport looking forward to my first ride on the new subway system. And now I am sitting on the subway with my package next to my feet, heading home.
    Riding the subway is both cheaper and more convenient than the options I had before. There is a station just five minutes' walk from my home.
    Even last year I dared not dream of this. I took the airport bus number 330 each time I got back from college. I took buses most of the time — or my parents drove — because we were not on the subway line.
    The driveway next to my neighborhood which promised to become a subway stop "someday" became a parking lot and eventually a green belt. I did not have a chance to witness that "day" before leaving for college in Beijing.
    But now I see the comparison. Years ago, Diwang Mansion was still the landmark of the city. Teenagers had less than three sites to choose from when looking for a hang out. Distant places could only be reached after hours on a bus (not everyone had a car). And the stadium serving for the Universiade in my high school had been under construction day and night.
    But things started to change. One day I saw a new building soaring into the sky right beside Diwang Mansion. New skyscrapers emerged like mushrooms in the increasingly bustling city. The operation of the new subway system connects most parts of the city. And last June I had my high school graduation ceremony right inside the newly-built stadium.
    I cannot fathom how Shenzhen has come so far in the blink of an eye. I thought it was a legend, the best exponent of Shenzhen's speed.
    Starting from the one-floor-one-day speed during the construction of Guomao Building, Shenzhen has never ceased its march to becoming a global metropolis. The legend never fades.
    This summer when I finished freshman year and got back from college, Shenzhen, which will host an exceptional games, is ready to embrace guests from all over the world.
    Among the generation that grew up in Shenzhen, I am so proud of this young city just seven years my elder. I believe we will prosper and do wonders, hand in hand.