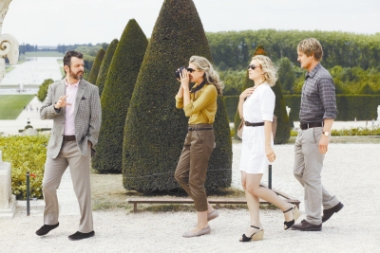 伍迪·艾伦新作《午夜巴黎》
    Woody Allen's new film is a simple fable. Supported by attractive performers like Owen Wilson, Marion Cotillard and Rachel McAdams, "Midnight in Paris" is his warmest, mellowest* and funniest film in far too long.
    This is also a film with an unexpected twist*, so the less you know about it the better. Try to see it immediately, before well-meaning friends tell you more than they should.
    Allen says he's been enamored* with Paris since he wrote and acted in "What's New Pussycat*?" in 1965. You can sense his continued love for the city throughout the film, feel the extra spirit in his step and pleasure in his heart.
    "Midnight" opens with an extended montage* of Paris' tourist landmarks*. Allen is saying: Pay attention — this is a special place, a place where magic can happen.
    That's certainly the attitude* of Gil (Wilson), a successful Hollywood screenwriter who is an enthusiast* for the City of Light in general, and the 1920s golden age of Fitzgerald-Hemingway Paris in particular*. So much so that Gil dreams of turning his back on* all that studio money and writing novels on the Left Bank.
    Gil's fiancee, Inez (McAdams), doesn't like the sound of that. She and Gil are in Paris with her wealthy parents on a business trip and she doesn't even want to think about anything that would cut Gil's income.
    Then, Gil and Inez meet Inez's friend Paul (Michael Sheen) and his wife. A professor whom Inez once had a crush on*, Paul is in Paris to lecture at the Sorbonne. Paul is so pedantic* he gets into an argument with a guide at the Rodin Museum (a brief cameo* for French First Lady Carla Bruni).
    As much to escape Paul as anything else, Gil takes a late-night walk and just as the clock strikes midnight on the Rue Montagne St. Genevieve, something happens that throws everything in Gil's life into disarray*.
    Besides good acting by the cast, Allen has provided a sharp and satisfying script. It makes jokes about everyone but also takes time to think about our world.
    (SD-Agencies)