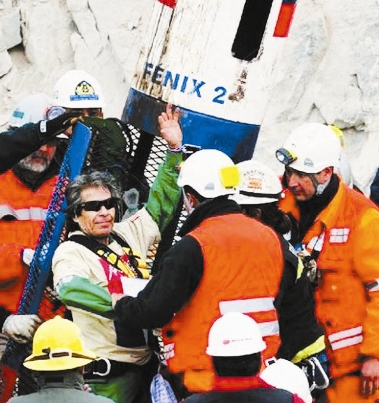 智利被困矿工故事将上大银幕
    The story of the Chilean miners who were trapped underground for more than two months is on its way to the big screen.
    The 33 miners have sold the rights to their story to producer Mike Medavoy, the producer and the miners' representatives announced on Monday. The planned film will recount the remarkable plight* of the miners who were trapped for 69 days after the San Jose mine they were working in collapsed near Copiapo, Chile.
    The veteran producer Medavoy has produced films including "Shutter Island" and "Black Swan." ''Motorcycle Diaries" screenwriter Jose Rivera is set to write the script.
    "We'll dig deep into their stories," Medavoy said in an interview. "We're not just going to tell a story about 33 miners in a hole."
    Miner Juan Andrew Illanes called the project "the only official and authorized film about what we lived in the San Jose mine." The miners are collectively represented by William Morris Endeavor Entertainment.
    In an interview, Miner Omar Reygadas, 56, said he hopes the film will preserve* the hopeful message of the miners' experience.
    "We want the film to get into people's spirits," Reygadas said. "I want it to emphasize the spiritual aspects, to show people's respect, teamwork and, more than anything, faith. I think that what happened in this mine was a miracle of life, and that's what I want it to show."
    Medavoy, who established Phoenix Pictures after years as a top executive at TriStar Pictures, Orion Pictures and elsewhere, acknowledged that he was initially apprehensive about taking on the film because of the well-known ending. But he said the miners' story reminded him of John Ford's "How Green Was My Valley," the 1941 film about life in a Welsh mining town.
    Medavoy declined to say how much the deal cost. No studio is yet attached to distribute the film.
    Production is scheduled to begin next year.(SD-Agencies)