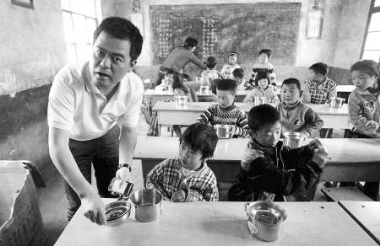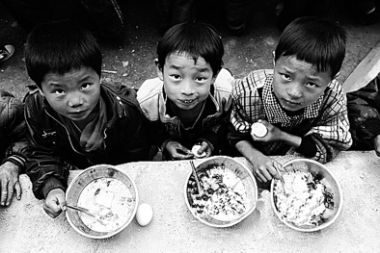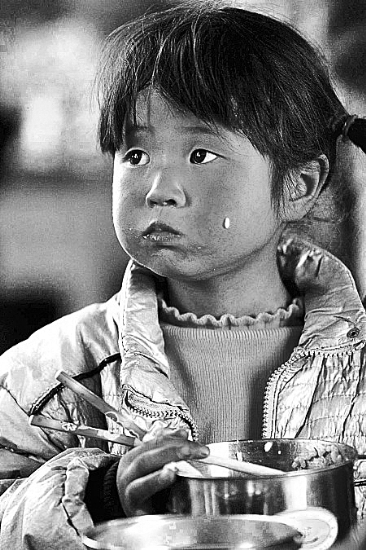 DENG FEI, an investigative journalist from Phoenix Weekly, is one of China's best-known journalists, bloggers and microbloggers. In February, he famously reunited a kidnapped boy with his family in Shenzhen in February and galvanized people nationwide to aid in finding kidnapped children forced into begging.
    He has become an Internet celebrity with nearly 300,000 followers of his microblog (http://weibo.com/162326133).
    Liu Yan, a sixth grader in a primary school in Hongban Village in Guizhou Province, has to walk at least 8 kilometers to school every day.
    If she does not leave home at 6 in the morning, she will not arrive on time. She seldom has time to return home for lunch during the two-hour break she gets at noon.
    She was pleasantly surprised when an Internet campaign enabled her to eat at school every day.
    The online campaign, initiated by Deng in April, has prompted millions of netizens to give money to ensure she and others like her can enjoy free lunches.
    Deng, after visits to primary schools in Guizhou, told various news organizations, via his microblog, that many students in villages were going hungry during lunchtime.
    The money he raised has helped 169 students at the primary school enjoy lunches at school since April.
    The goal of Deng's program in the next five years is to give free lunches to students in 100 rural primary schools throughout China.
    So far, Deng has raised 11 million yuan and helped students in 23 primary schools in Guizhou, Guangxi, Hunan, Yunnan, Guangdong and Henan.
    "The Internet changes everything and via microblogs, one person can become an army," said Deng. "It connects journalists and thousands of people, hence it is more powerful in providing and spreading information than other media," Deng told Shanghai Daily at an early interview.
    When Deng registered a microblog account, he didn't realize its potential to influence people. He thought it was simply a platform where one could only publish 140 characters at a time.
    Yet his attitude changed last July when Deng posted in his microblog the news that an elderly woman in Hubei, the wife of a local government leader, had been beaten up by local police at the gate of the provincial government office because she was mistaken for a petitioner.
    In 24 hours that post had been forwarded more than 1,000 times and attracted much media attention. It was reported that the woman's husband had been ordered by his superior to keep his wife quiet about the beating. It was also reported that the police who hurt the woman had been given the power to "deal with" petitioners who take their complaints to the provincial government.
    Eleven days after Deng's initial post, a senior official from Wuchang District of Wuhan City was dismissed from his post. Deng attributed the successful outcome to the mobilization through microblogs of thousands of people, including journalists.
    Three years after being abducted, a 6-year-old boy Peng Wenle was returning home to Shenzhen from Jiangsu this February. His rescue was made possible by Deng's blog.
    Deng posted the photo of Peng in his microblog and one of his followers responded that he saw a boy who looked like Peng in a village in Jiangsu. Deng got in touch with Peng's father who later called police. The boy was rescued.
    "Before, we didn't have any means of reporting news. That was the job of the official media. Now we have a way; microblogs are a means of broadcasting yourself. I think microblogs can change our country," Peng said.
    Deng plans to continue working on justice issues. On his microblog, he called for donations to ensure every rural child has free medical insurance to cover serious illnesses. Some insurance companies and media are getting involved in the program. He plans to establish a charitable organization by the end of the year.
    "Microblogs have changed my idea of myself, the biggest change is that I am now determined to be more than just a journalist. I want to be involved in social welfare for the rest of my life."
    But being a volunteer has its pressure, "because nearly 300,000 people are watching me every day," Deng said. (Han Ximin)