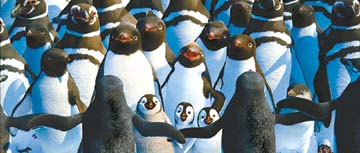 A MORALIZING musical that feels inferior to of its Oscar-winning animated predecessor in every imaginable way, "Happy Feet 2" dances as fast as it can but can't kick up any level of engagement beyond only occasional raucous diversion. Director George Miller again blends motion-capture-assisted penguin dance choreography with exuberant contemporary songs, but the stabs at ecstatic celebration feel laboriously pantomimed rather than revived, so weighed down by bromides and frantic, look-at-me antics is the film.
"Happy Feet" was a surprising US$384 million worldwide grosser in late 2006, and won the Academy Award for Best Animated Film. Audiences and critics embraced its original mix of song and dance against a backdrop of environmental messaging.
Returning to the landscapes of Antarctica, "Happy Feet 2" centers on a grown-up Mumble (Elijah Wood), a tap-dancing penguin whose tiny son Erik has yet to find his own niche. Reluctant to dance, Erik runs away with a couple friends, following the lovestruck Ramon (Robin Williams). Together, they stumble across a mighty puffin named Sven (Hank Azaria), mistaken for a penguin who can fly.
When an ice shelf collapses and traps the rest of the penguins in a valley, Mumble works to save his wife Gloria (pop star Pink, replacing the late Brittany Murphy) and the rest of the many penguins, eventually recruiting both different penguin nations and other animals.
Even though he and three others share screenplay credit, Miller seems less concerned with plotting than merely stringing together some semblance of loose dramatic conflict, all to get him to the next chance to do a song. The unique mating "heartsongs" of the original film are gone, replaced by shenanigans (Ramon pining for Carmen, voiced by Sofia Vergara) that seem nipped from a wacky sidekick B-plot handbook.
When it's not singing, the movie just yawns. Apart from its admittedly engaging 3D presentation and a pair of brief but thrillingly captured underwater chase sequences, "Happy Feet 2" is fairly lacking in ambition and scope; its story feels awfully bare bones, as illustrated by the inclusion of a discrete strand focusing on Will (Brad Pitt) and Bill (Matt Damon), two krill who separate from their swarm and eventually have a hand in saving the day, in a fashion tipped by the opening narration.
Despite what on the surface might seem like dire circumstances, there's no sense of lingering danger in the movie. In theory a threat of starvation exists for the penguins, but it's not immediate, and carries no weight. Flocks of skua birds swoop down to menace them as well, but it's never clear what exact threat they present.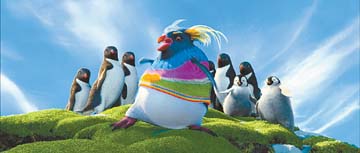 Perhaps partially owing to this lack of any driving stakes, the film is also something of a tonal mishmash, evincing the feeling of one of those theme park teacup rides which jerks its passengers to and fro. The group penguin stomp-alongs, again choreographed by Savion Glover, have an uninhibited vibe that sporadically appeals to goofy pleasure. The story, however, affords the film no staying power, so Miller attempts to repeatedly patch over these rough spots by just having Erik and other young penguins or seal pups bat their eyes, to elicit a nakedly sympathetic response.
Working with Australian visual effects house Dr. D Studios (a joint venture Miller struck with the Omnilab Group), Miller and his collaborators offer up a compelling visual experience — definitely the high point of the film. Particularly gorgeous are segments with Bill and Will, who at times glow translucently.
The movie is now being screened in Shenzhen.
(SD-Agencies)