Han Ximin
THERE are two hours of every Sunday afternoon which Jiang Shoulian regards as the best time of his week. Jiang is the father of quadruplets, and during this time he can take a rest and enjoy his boys learn cross talk and clapper talk.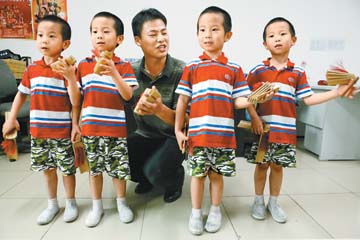 The lessons are given by Zhao Zilin, vice chairman of Nanshan Folk Artists Association, for free.
Born in Shenzhen in 2006, the four boys were the city's first quadruplets to be naturally conceived.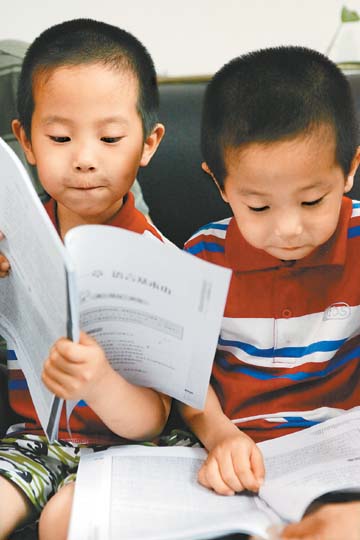 For years, Jiang and his wife Tan Chaoyun have only four to five hours of sleep a day. Almost everyday from 6 a.m. to bed time, they are busy preparing food, helping the children with their homework and taking them to and from school.
"Since the four children were born six years ago, my family has been on the verge of bankruptcy," said Jiang, who is the sole breadwinner and works in Dongguan.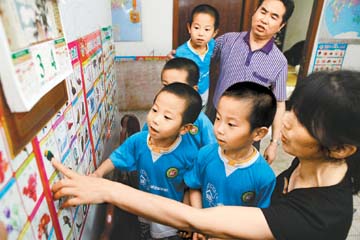 Tan quit her job as they couldn't find a domestic helper and Jiang's 8,000 yuan (US$1,272) monthly income can barely cover their living costs. The family sold their home and rented a three-bedroom apartment in Shiyan, Bao'an District.
"There is no government policy of supporting the families of quadruplets so we have to do everything on our own," Jiang said.
The four boys often do things that make Jiang feel it is all worthwhile. They get up at the same time and choose the same books from a pile of books when they start reading. But what Jiang fears is the four boys all getting sick at the same time. "It is a nightmare for us as we will be overwhelmingly busy," Jiang said.
The boys' education is a particular source of stress for Jiang.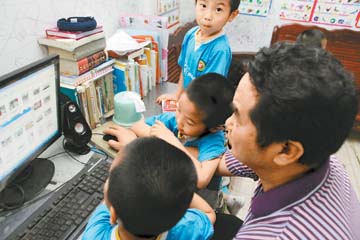 As the couple don't have Shenzhen hukou (permanent residency permit), it is hard for their children to get enrolled by a public school, especially now when there is a shortage of places. Tuition fees at private schools cost at least 3,000 yuan per student, per semester.
"We will try our best to give our children the education they deserve, though it is tough for an ordinary family like us. I believe our happiness will multiply as we survive more hardships," Jiang said.