Starring: Kevin Spacey, Daniel Wu, Gong Beibi, Yan Ni, Peter Stormare, Kenneth Tsang, Zhang Mo Director: Dayyan Eng                          
    WRITER-DIRECTOR Dayyan Eng's "Inseparable" is definitely a crossover film but it never makes up its mind what it wants to cross over to. It claims to be the first entirely Chinese-funded film with an American star in Kevin Spacey. Then it's a black comedy with conflicting urges toward satire on one hand and fantasy on the other so its genre is hard to pin down.
    It starts off well enough with Spacey playing Chuck, a mysterious expat living in a large Chinese city, who comes to the rescue of an apartment building neighbor, Li (Daniel Wu), about to commit suicide. A supremely confident man with a lot of practical although mischievous ideas about how to cope with the stresses of life, Chuck takes Li under his wings.
    Since Li speaks fluent English and Chuck's Mandarin "blows," to use his own description, the film mostly is in English but reverts to Chinese for all scenes without Spacey. Meanwhile subtitles in Mandarin and English run concurrently no matter what language is being spoken.
    Li's despondency has arisen over dual tragedies in his life that has also estranged him from his gorgeous though moody wife Pang (Gong Beibi). Plus he is under pressure at work from his dragon lady boss (Yan Ni) to lie at a government hearing as the company is about to issue an IPO.
    Under Chuck's guidance, Li creates a super hero alter ego, that of an anti-corruption crime fighter complete with a costume somewhere between Batman and Captain China. (Well, it wouldn't be Captain America, now would it?) Chuck comes along as his sidekick albeit with a much better costume.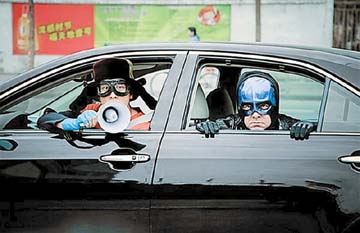 This is perhaps the most prescient element to Eng's screenplay as disgust with corruption has reached record levels in China and indeed throughout Asia especially in India. The film gets at this "corruption fighting" awkwardly though with Li following up on leads based on investigations by his journalist-wife. In each case, it appears Pang has done most of the work. The goofiness of two men in masks and capes playing truth crusaders never really plays well on screen. The super-hero send-up is getting old and this one never finds its footing.
    Then the movie enters an even stranger mode. A shrink convinces Li — and possibly the audience — that much of what he is experiencing is a figment of his imagination, a brief psychotic disorder if you will. But from here on in, you're never quite sure what is "real" and what is not. If Chuck is not real, then maybe Li's wife isn't either. Then Li's dead goldfish starts talking to him.
    So the film progresses from a buddy movie to a super-hero satire and then a sci-fi fantasy about levels of reality. Left somewhat behind although still the connecting tissue of the comedy is the idea of anti-corruption crusaders. With hindsight, this may have been the element that needed further development.
    Instead the film gets distracted by Li attacking a poor street vendor and his wife whom he mistakenly believes to be peddling toxic tofu. It pretty much goes off the rails from this point forward. And while there is a further twist in the real/unreal quandary battling it out in Li's mind, some audience members may give up on the whole question.
    However, Spacey is just right in this role, playing a possibly imaginary character with a believable earnestness and genuine concern for his neighbor's well-being. Li takes a while to find his character, playing the schlemiel with a little too much slapstick at the beginning before settling into a convincing portrait of a drowning man grasping any saviour he can. Gong is stunningly beautiful and certainly seems like a competent actress but her role is too ephemeral.
    What the Taiwan-born American and Beijing Film Academy-educated filmmaker fails to do is establish the right tone to convey both the silliness and seriousness of his concept. Mixing the corruption-fighting theme with mental illness never really meshes as a consequence. There was no doubt a solid idea for a film lurking in the over broad dark comedy, and landing Spacey was a definite coup. But the film feels like a rough first draft rather than a smooth final one.
    All technical credits are accomplished. Thierry Argobast's cinematography and the use of locations in Guangzhou and Guangdong are particularly outstanding.
    The movie is now being screened in Shenzhen.
    (SD-Agencies)