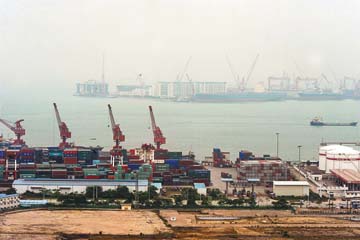 SHENZHEN, a pioneer of economic reforms but long in the shadow of Hong Kong, is plotting another bold ploy: a US$45 billion "Manhattan of South China" to return it to the limelight and aid China's rise as a financial power.
On a barren stretch of reclaimed land in western Shenzhen and near the Hong Kong border, the Central Government plans to build another financial services hub from scratch in Qianhai, offering the low taxes, rigorous legal regime and anticorruption vigilance enjoyed by its affluent neighbor.
For Hong Kong, the project could bring fresh business opportunities and bolster its position as China's financial window on the global markets.
Now a metropolis of 14 million people crammed with ports and skyscrapers and home to Chinese corporate goliaths such as carmaker BYD and telecommunications firm Huawei Technologies, Shenzhen was no more than a bucolic backwater of 30,000 villagers living off paddy fields and the sea in 1980.
Shenzhen's stock market, while smaller than its Shanghai counterpart, has become the most active global IPO center on a wave of domestic listings, eclipsing London and Hong Kong.
Despite giant economic strides in the past two decades, China's still difficult and fickle business environment needs to mature into one of greater openness and legal rigor, foreign investors say, and those are elements that have long been part of Hong Kong's institutional and commercial fabric.
Qianhai, which will focus on finance, logistics and IT services and is set for completion in 2020, would allow the mainland to leverage Hong Kong's expertise.
Through close cooperation with Hong Kong, Qianhai will forge an "innovative financial reform program", Zhang Jianmin, an official with China's top economic planning agency, the National Development and Reform Commission, said in June.
Cao Hailei, an official of the Qianhai Authority overseeing the project, said he hoped to establish a new arbitration court with juries partly comprised of Hong Kong residents to settle commercial disputes, addressing common concerns among Hong Kong and foreign investors toward the vagaries of Chinese law.
Hong Kong officials have publicly backed the Qianhai project, offering expertise on financial markets and legal systems.
They see it as a key part of the rapidly expanding conglomeration of cities in the Pearl River Delta, which comprises much of Guangdong Province and is often called the world's workshop for its concentration of export-oriented manufacturers. The region, along with Hong Kong and Macao, has a combined GDP exceeding the Netherlands and nearly the size of Australia.
"Hong Kong is suffering from limited land supply," said Thomas Chan, head of the China Business Center at the Hong Kong Polytechnic University.
"With the help of Qianhai, (Hong Kong) could expand some of its financial business across the border. In fact, this is what the mainland planners have in mind. The 15 square-kilometer area is twelve times the size of Hong Kong's central district."
Qianhai will be largely self-financed by bank loans, bonds and revenue from land-use rights of the area, as well as codevelopment projects, Cao said, with infrastructure development costs estimated at 285 billion yuan (US$44.8 billion).
Analysts say the project's endorsement from senior officials in Beijing should reduce the risk of any financing difficulties even as China's credit environment tightens.
(SD-Agencies)