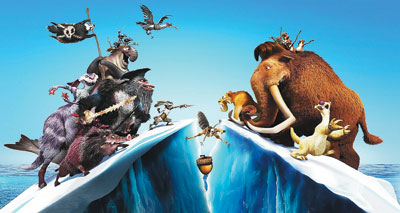 Voices: Ray Romano, John Leguizamo, Denis Leary, Sean William Scott, Josh Peck Directors: Steve Martino, Michael Thurmeier
    AFTER adding dinosaurs for its third installment, the "Ice Age" animation franchise brings animal pirates on board for chapter four, a frenetic 3D outing that mixes large-scale action adventure with the usual family comedy. The commercially canny refurbishment should help "Continental Drift" add another big box office take to the impressive track record of the Fox/Blue Sky Studios franchise.
    The franchise has always been disproportionately popular outside the United States and "Continental Drift" opens in a number of international markets this weekend, arriving a month after rival animal animation "Madagascar 3."
    The release pattern may boost the movie's eventual gross, though beating the performance of 2009's "Ice Age: Dawn of the Dinosaurs" — a record-breaking box office of US$690m from international — will still be tough.
    Co-directed by Michael Thurmeier of "Dawn of the Dinosaur" and co-written by Michael Berg, who worked on "Dawn" and the original "Ice Age," the fourth installment uses the creation of the continents to drive its story. The seismic split leaves woolly mammoth Manny (again voiced by Ray Romano), sabre-toothed tiger Diego (Denis Leary) and sloth Sid (John Leguizamo) adrift at sea while Manny's wife (Queen Latifah) and daughter (Keke Palmer) are stuck on unstable land.
    Trying to reunite the family leads Manny and Co into conflict with a band of pirates whose number includes an evil orangutan captain (nicely voiced by Peter Dinklage from "Game of Thrones"), a female sabre tooth (Jennifer Lopez) and a dopey elephant seal (Nick Frost). Among the abundance of other new characters are Sid's cantankerous granny (Wanda Sykes), some teenage mammoths (rappers Nicki Minaj and Drake) and a colony of manic guinea pigs.
    The story has its family themes — Manny's problems with his teenage daughter being the most prominent — but they don't add up to much. The film spends more time on its fairly impressive ocean-going action and an abundance of 3D-enhanced slapstick comedy — including the familiar interludes of squirrel-rat Scrat and his elusive acorns — that will amuse kids if not their parents.
    The fun occasionally feels a bit forced but never so much so as to induce serious franchise fatigue.
    The movie is now being screened in Shenzhen. (SD-Agencies)