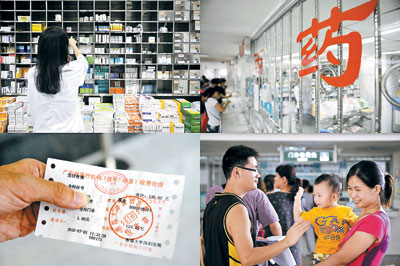 Wang Yuanyuan
cheekywang@hotmail.com
"I don't think the reduction is big enough. I used to spend about 147 yuan on drugs for my fever and now I pay 132.4 yuan. It is cheaper, but it is still too expensive."
— A patient at Shenzhen No.2 People's Hospital
"The reform only scrapped the 15-percent drug markup but did not do anything about the drug's circulation links. We are doing exactly what we were doing before and our relationship with clients is still solid."
— Wu Shaoling, sales representative of a drug company
"The reduction may be more significant for those suffering from chronic diseases or special diseases."
— Liu Feifei, doctor from the No.2 Hospital
AS part of Shenzhen's medical reform, the 15-percent drug markup was officially scrapped at the city's public hospitals July 1 and patients have been allowed to buy drugs at private pharmacists with doctor's prescriptions.
At the same time, the outpatient consultation fee at public hospitals was raised from three to eight yuan to the current 17 to 22 yuan. Most of the added cost is covered by medical insurance. However, many experts thought that further steps should be taken to lower drug prices and ensure medical staff receive a healthy income.
The reform is aimed at reducing the cost of health care. After a year in effect, removal of the markup and related medicine discounts will have helped insured patients save about 209 million yuan, according to the prediction of the Health, Population & Family Planning Commission of Shenzhen Municipality.
"I don't think the reduction is big enough. I used to spend about 147 yuan on drugs for my fever and now I pay 132.4 yuan. It is cheaper, but it is still too expensive," said a patient at Shenzhen No.2 People's Hospital.
"The reduction may be more significant for those suffering from chronic diseases or special diseases. For example, fludarabine was sold at 2,270 yuan per pack and now it costs 75 yuan less. For a leukemia patient who has to use the drug frequently, the new price can save a lot of money," said Liu Feifei, a doctor from the No.2 Hospital.
Patients paid an average of 196.2 yuan per visit at any of the city's 67 public hospitals in July, 2 percent less than the average payment in June. Of the average cost in July, 74.6 yuan was for drugs, 12.7 percent less than June.
Drug markups
Many experts thought scrapping the 15-percent drug markup will do little to bring down the cost of drugs.
According to Zhu Hengpeng, a researcher with the Institute of Economics under Chinese Academy of Social Sciences, the profit of a medical institute lies not only in drug markup and treatment fees, but mainly on rebates from drug dealers. "Rebates to hospitals and doctors cover more than 30 percent of the drug sales revenue of a medical institute in China," Zhu said in a review by the Guangzhou-based The Time Weekly.
But the practice of receiving rebates is not targeted in the reform on markups, therefore the influence of this reform is limited, according to Guo Fanli, a medical industry researcher from China Investment Consulting in Shenzhen.
"The loss suffered by hospitals for scrapping drug markups will be subsidized by the government, while the economic ties between drug dealers and hospitals remain the same," said Zhu.
Although the policy has been in effect for nearly one month, many hospitals are yet to make a statement on the matter.
"Hospitals have remained quiet. Many doctors are nervous about the new policy, but actually our daily operation has not been affected," said Wu Shaoling, a sales representative from an anonymous drug company.
"The reform only scrapped the 15-percent drug markup but did not do anything about the drug's circulation links. It may be too early to see a changing pattern in drug sales, but we are doing exactly what we were doing before and our relationship with clients is still solid," said Wu.
At present, drug revenue at the city's hospitals accounts for 38 percent of their total revenue (including drug revenue and treatment revenue). "If the percentage is lowered to 30, 25 and 20 percent, patients can pay 286 million yuan, 626 million yuan and 923 million yuan less immediately," said Guo.
However, the government has not made a detailed plan on how it intends to subsidize the hospitals if their profit from drug sales continues to decrease, Guo said.
Doctors' income
It has been suggested that a new salary system is needed to help motivate medical staff.
Jiang Hanping, director of the commission, said earlier in a meeting on medical reform that the subsidy should be about 20 percent of hospitals' total income.
"This is far nowhere near to cover the lost revenue. If a hospital cannot maintain its operation, how can doctors and nurses survive if they don't make money from other channels?" asked a doctor from Shenzhen No.2 People's Hospital, who refused to be identified.
In June, 16 officials from 13 public hospitals were detained for accepting bribes from drugmakers and medical equipment manufacturers and all medical staff were ordered to hand in the rebates they had accepted to avoid punishment.
"The city has started taking strict action on corruption in the health care sector, but with the current salary system, corruption is almost inevitable," said the doctor.
Compared with more developed countries and regions, doctors at public hospitals on the mainland make much less money. "The average salary in my department is about 10,000 yuan a month. Doctors are overworked and under a lot of pressure," said the doctor.
Meanwhile, the current salary for medical staff is based on performance, working period and administrative level.
"If a doctor and a nurse are the same age, the nurse will work much longer because her job requires less training. Because of this, nurses earn about as much as doctors because doctors only start working officially after completing medical school. Many doctors feel this is unfair," said the doctor.
Future development
The city's health commission said that the current reform is only at the first stage and more action will be taken to ensure the best outcome for both patients and medical staff.
"The first stage is to reduce the 15-percent drug markup at the hospitals, allowing patients pay less on drugs and save more money. The cost of the reform will mainly be covered by the hospitals themselves," said Jiang.
The government will next carry out a new pricing plan for medical services so that hospitals can make enough money to maintain operation.
Jiang admitted that the next stage would also be difficult because it involved many government departments. "How to cover the hospitals' lost revenues is still under discussion. For example, the social security department only covers the more than 80 percent of the lost revenue from patients with medical insurance by paying for the increased treatment fees, but how to cover the lost revenue from those without medical insurances is still unknown," said Jiang.
Zhu suggested the most effective way on the current stage was to increase the number of patients with medical insurance. "The reform is a long process." said Zhu.