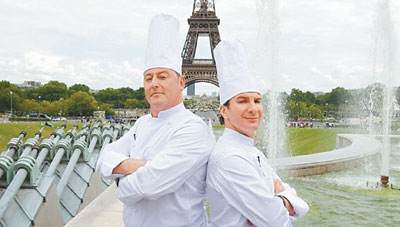 Voices: Jean Reno, Michael Youn, Raphaelle Agogue, Julien Boisselier, Salome Stevenin, Serge Lariviere Director: Daniel Cohen
POKING fun at the restaurant world, French helmer Daniel Cohen's genial, broadly played comedy "The Chef" dishes up easily digestible laughs as an annoying, know-it-all foodie lucks into his dream job at a fine dining establishment.
A self-trained cook with haute-cuisine ambitions, Jacky (Michael Youn) gets canned from a series of menial cooking jobs for taking exception to his customers' taste. Beatrice (Raphaelle Agogue), Jacky's heavily pregnant girlfriend, tries to halt their financial meltdown by arranging a handyman position for him at an old folks home, but he can't resist the siren call of the kitchen.
Meanwhile, Alexandre Lagarde (Jean Reno), chef and nominal proprietor of the three-star Cargo Lagarde, faces a crisis of a different sort. Stanislaw (Julien Boisselier), the interfering son of his retired business partner, wants him to cut costs and update the menu. Since he can fire Alexandre if the restaurant loses a star, Stanislaw tries to undermine him in every way possible, transferring his favorite sous-chefs and threatening his suppliers.
The current fashion for molecular gastronomy sparks some of the film's most inspired bits of comic business. The import of a Spanish expert (a tip of the skillet to El Bulli's Ferran Adria) results in a test kitchen full of frothing beakers and liquid nitrogen clouds. Sillier yet, Alexandre and Jacky disguise themselves as Japanese dignitaries to sample the food at a trendy, state-of-the-art establishment that uses iPads as menus.
The movie is now being screened in Hong Kong. (SD-Agencies)