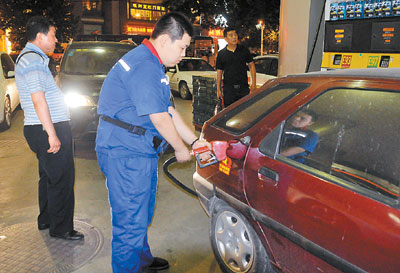 Anne Zhang
zhangy49@gmail.com
SHENZHEN officials said the city would transform the existing diesel-powered boilers to natural gas-powered ones by 2015, echoing a recent decision by the World Health Organization (WHO) that classifies diesel exhaust as a carcinogen.
Emissions from vehicles, power plants and boilers are the primary air polluter in Shenzhen, according to Shenzhen Municipal Environment and Human Settlements Commission.
China's second west-to-east gas pipeline started servicing the city Aug. 1. The 4 billion cubic meters of natural gas a year provided by the new pipeline will help Shenzhen replace diesel used in the city's more than 600 boilers in three years, reducing a considerable amount of diesel emissions, officials said at the gas pipeline launch ceremony.
But exhaust pollution by diesel-powered vehicles remains a problem in Shenzhen, where clean diesel technology is yet to be widely used.
A 'known carcinogen'
Diesel exhaust was classified as "probably carcinogenic" by WHO in 1988. After over a decade of re-evaluation, the organization elevated diesel to the "known carcinogen" level this June, declaring that diesel fumes cause lung and bladder cancer. WHO experts said diesel fumes were more carcinogenic than secondhand cigarette smoke.
Used in power plants and boilers, heavy-duty vehicles and industrial equipment, diesel emits a mixture of particles, metals and gases, which poses serious health and environmental risks. When inhaled by humans, these tiny, toxic-laden particles cross the blood barrier from lungs into the bloodstream, delivering the toxic to internal organs and leading to inflammation and cardiovascular and respiratory diseases such as cancer, stroke and heart attacks, health experts say.
He Lingyan, an environment and air quality professor at Shenzhen Graduate School of Beijing University, told Shenzhen Daily that there had been mounting concern about the cancer-causing potential of diesel exhaust before WHO confirming it with scientific evidence and data.
Although WHO based its findings primarily on studies of workers in close proximity to diesel exhaust, such as miners, He said the organization's decision will strengthen public awareness of harmful diesel exhaust, urge the government to curb diesel emission and promote the development of clean diesel engines and other clean energy sources.
Curbing emissions
The gas transported to Shenzhen through the new pipeline will help the city replace heavy-polluting fuel used in power plants and boilers including coal and diesel with natural gas, which will reduce carbon dioxide emissions by 7 million tons and other emissions by 42,000 tons a year.
However, vehicle exhaust emissions, compared with other emitters, pose more serious environmental and health risks to Shenzhen because of the huge number of cars in the city.
According to the Shenzhen Chronic Diseases Prevention Center, cancer rate has increased by 200 percent among Shenzhen residents in the past 10 years. Lei Lin with the center said air pollution by vehicle emissions is an important factor contributing to the increase.
The environmental commission reported that nitrogen dioxide and PM2.5 from vehicle exhaust are the biggest air pollutants in Shenzhen. Diesel-powered vehicles are more polluting than gasoline-powered ones, experts say.
Data show the number of registered vehicles in Shenzhen has exceeded 2 million, of which 15 percent are diesel-powered.
Among those 300,000 or so vehicles with diesel engines, more than 60 percent are commercial vehicles, such as trucks, school buses, passenger buses with travel agencies and environmental sanitation vehicles, said Dai Zhiguang, vice director with the environmental commission's vehicle emission control office.
At least 240,000 vehicles registered in other cities are regularly operated in Shenzhen all the year round, of which more than 30,000 are diesel-powered, Dai told the newspaper.
Shenzhen has been making efforts for years to curb diesel exhaust emissions from vehicles, Dai said. The city keeps improving the quality of diesel and raising the standard of the diesel.
The law requires all the vehicles to be inspected regularly. Those that fail the national and city's emissions standards are forced to go through special procedures or are banned from certain areas and roads during designated hours. The Shenzhen government has planned to ban high-emitting vehicles from all the city roads by 2015.
Clean diesel engine
Dai and Professor He both agreed that the WHO decision should make the industry develop cleaner diesel and more advanced diesel engines. But some diesel automakers from Western countries are questioning the findings, citing that the WHO study focused on older diesel engine technology and failed to represent modern diesel technology, which has been available in the market since 2004.
According to Volkswagen, more stringent emissions regulations in Europe and the United States have pushed automakers to advance the diesel engines. Newer technologies including improved combustion, after-treatment exhaust fluid systems and particulate filters, have significantly minimized particulate emissions.
Studies show clean diesel engines use 30 percent less fuel, emit 25 percent less carbon oxides and provides 50 percent more power than their gasoline counterparts.
In Europe, diesel is used in all heavy-duty vehicles and 90 percent of light-duty vehicles and cabs. Thirty-two percent of passenger vehicles in Europe are diesel-powered and the rate is 50 percent and higher in countries like Austria, France, Belgium, Spain and Italy.
The U.S. market has also seen a boom of diesel-powered passenger cars due to diesel's high efficiency and recent regulatory and technological advancements at a time of high gas prices. The U.S. diesel auto sales went up 35 percent in just the first quarter of 2012, according to sales information compiled by Baum & Associates and HybridCars.com. The trend is expected to continue in the country.
However, it's not the case in China. Diesel passenger cars account for a very small percentage of the Chinese market due to lack of high-quality diesel, more stringent regulations and state-of-art technologies.
A member of staff with the Automobile Dealer Association of Shenzhen said diesel vehicles accounts for 10 percent to 20 percent in Shenzhen's market, of which more than 90 percent are commercial vehicles.
Despite less popularity among car buyers, the automobile industry has been vying for the future market of diesel passenger cars. China's domestic automobile brands, such as Great Wall Motors, Jiangling Motors and JAC Motors have built their own diesel-powered passenger vehicles. OED Engine and Great Wall Motor among other automobile engine producers are developing more advanced and cleaner diesel engines.
Experts estimated that diesel-powered passenger vehicles will gradually thrive in the Chinese market in the next 20 to 30 years as the country pursues low-carbon, sustainable economic development.