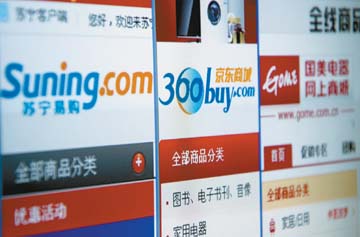 Wang Yuanyuan
cheekywang@hotmail.com
Chinese netizens, online shoppers and Internet retailers had an exciting week last week as a price war raged between several of the country's major online business-to-consumer (B2C) retailers.
Although the intense competition has died down slightly since Thursday, concerns have been raised over the future of the e-commerce industry.
The price war was launched by Liu Qiangdong, CEO of 360buy.com, when he announced that home appliances on 360buy will be sold at zero gross margins for the next three years and all large home appliances will be at least 10 percent cheaper than those in Gome and Suning stores.
Suning, which also operates businesses through brick and mortar stores and online platforms like Gome, soon launched its response, saying prices of all Suning's products would be "lower than those of 360buy.com," while Gome also joined in Tuesday evening, promising to sell its products for 5 percent cheaper than 360buy.com.
The war commenced at 9 a.m. Wednesday, causing congestion at all major shopping Web sites.
Netizens complained that the Web sites were difficult to access and many sought-after products were out of stock.
Many also said prices were not as low as expected and 360buy.com even secretly increased its prices before the war began and claimed that the discounts were much bigger than they really were.
Although Liu decided to offer consumers coupons instead of discounts the next day, many netizens lost interest in the price war as they found that much of it was simply a gimmick.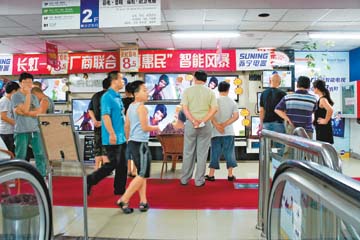 In Shenzhen, many brick and mortar stores also planned to lower their prices to compete with online shops. Branches of Gome and Suning in the city decided to lower their prices starting last weekend.
Zhou Hai, manager of Shenzhen Gome Electrical Appliances, said that the price war had narrowed the gap between prices at online stores and stores like his own. "We are not very worried about the online shops because our quality and after-sales service may still be superior to what they can offer," he said.
What the figures say
According to Eachnet.com, a professional price comparison Web site, only 5,000 appliances had their prices lowered during the Aug. 15 price war, which accounted for 4.7 percent of the 117,000 products available.
However, the Web site also found that 360buy.com secretly increased the prices of nearly 50 products by between 30 and 100 percent Tuesday night. Although other online platforms such as Suning, Gome and 51buy.com also secretly increased some of the prices, their deception was on a far smaller scale than 360buy.com.
Meanwhile, the monitoring system also found that many products were actually out of stock. About 29 percent of popular products sold on 360buy.com were out of stock, while the rates on dangdang.com, 51buy.com, Gome and Suning were 18.8, 14.85, 12.76 and 11.12 percent respectively.
Overall prices at 360buy.com actually increased by 1.2 percent, China Central Television (CCTV) news said Saturday.
Liu later responded on Sina Weibo. "Our prices are 10 percent lower than the prices at Suning, and we reached our target," he said.
What the suppliers say
The war between major online retailers has been going on for years. The real victims are the suppliers and manufacturers.
Last week Haier Group was rumored to have suspended its cooperation with 360buy.com. Many experts suggested this was in retaliation for the damaging price war.
Later, TCL Group also criticized the way online retailers operate. Traditionally, the brick and mortar stores would pay for the suppliers once every year or every six months for the stocks, and now the online shops also use the mode to deal with us. Compared with brick and mortar stores, it was much more risky for online shops to do so," said Li Dongsheng, President of CEO of the TCL Group.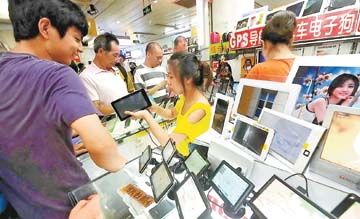 Hisence Group also said last week that it may take tough measures to suspend cooperation with online shops if they continued to launch such price wars.
"The price war will damage the whole industrial chain. If the war continues, the manufacturers and suppliers may boycott the retailers," said Hu Jianyong, vice marketing president of the Hisence Group.
What the government says
The price war has also drawn the attention of the government. The Ministry of Commerce held a special press conference Friday, saying more regulations would be introduced to supervise e-commerce.
The ministry said whether the price war had already violated the country's rules and regulations on business operation was still being investigated.
"E-commerce includes not only the platform itself but also the service provider and attached services. More detail regulation and standards will be made to prevent competition from becoming too cut-throat," said Wang Desheng, vice director of the distribution development department of the Ministry of Commerce.
He also said that several departments, such as pricing departments and market supervision administrations will jointly investigate the price war and stricter supervision will be introduced to monitor their future promotion activities.
What the experts said
The so-called price war is actually being implemented through buying out product models, said Wang Guangsheng, professor at the management department of Shenzhen University.
For example, Suning buys a model of a product, while 360buy.com buys another model of the same product.
Eachnet.com picked five models of television, refrigerator and air-conditioners from 360buy.com and Suning and found that only one model of a television, which is not popular among consumers, were sold on both online shops.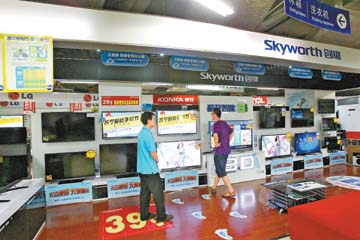 Wang thought that a price war would not benefit the online shops in the long-term. "Consumers will soon be tired of such promotions and return to their normal purchase habits and their strategies of gaining more market share will also fail as consumers' loyalty to one shop is actually very low," he said.
Wang suggested the e-commerce platform should focus more on its other services instead of simply lowering their prices to develop their business.
"Compared with brick and mortar stores, online shops perform poorly in customer satisfaction, information consultation, after-sales services and delivery. If they continue to focus on prices instead of the related services, customers will eventually abandon them because of poor overall service," said Wang.