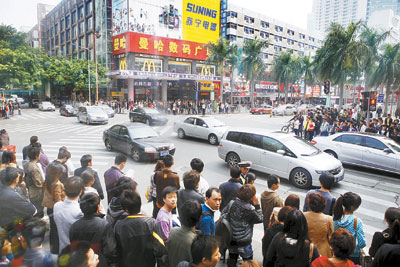 EARLIER this year, Shenzhen traffic police introduced measures to punish drivers who fail to give priority to pedestrians at zebra crossings. Yet many drivers say they are still unsure under which circumstances they should slow down or stop their vehicles.
By Aug. 26, police had fined around 8,600 drivers who failed to give priority to pedestrians. To make it clear to motorists what the rules are, police have released seven leaflets with illustrations and instructions.
Question 1: Do the new rules apply to buses and taxis?
Answer: Buses and taxis are public vehicles, and therefore their drivers are expected to play an exemplary role in Shenzhen's campaign to promote civilized behavior. But buses and taxis, which are 30,000 in total, only account for a small portion of the total number of vehicles in the city, which is now more than 2 million. The campaign is mainly aimed at private vehicles.
Question 2: What exactly is meant by slow down?
Answer: The speed limits on the city's major and trunk roads are mainly 60-80km/h. There are traffic lights at most intersections. But on some branch roads or side roads, there are no traffic lights and speed limits are 60km/h. At zebra crossings drivers are expected to slow down and let pedestrians cross.
Question 3: What should drivers do if pedestrians stop to give way?
Drivers must stop at zebra crossings to give way to pedestrians. If a vehicle is seen on the zebra lines at the same time as pedestrians, the drivers will be punished. If the pedestrian stands outside the zebra lines or makes a gesture to let the vehicles go first, then the driver is allowed to continue.
Question 4: What should drivers do if cars in front stop?
Drivers are not allowed to overtake vehicles that have stopped or slowed down at zebra crossings as this may cause accidents. Drivers who do this will be held fully responsible for any accidents caused.
Question 5: What if there is a steady flow of pedestrians on a zebra crossing?
Most of the busiest roads in the city such as Huaqiang Road North have traffic lights. Zebra crossings are mainly found on quieter roads so this will rarely happen.
According to the traffic safety laws of the People's Republic of China, vehicles should slow down in front of zebra crossings. If there are pedestrians crossing the road, drivers should stop and give priority.
According to Shenzhen's traffic safety laws, those drivers who don't slow down will be fined 200 yuan and those who don't give priority to pedestrians will be fined 500 yuan. Drivers will also have points deducted for such violations. If the driver is involved in an accident for such violations, the driver will be held fully responsible.
(Han Ximin)