Martin Li
martin.mouse@163.com
AROUND 60 of the 300 households in Wutongyuan, a residential community in Yantian District, have signed an agreement to put their daily kitchen waste into a special dustbin each day.
Under the agreement, they have to take a dustbin which was handed out by the community's property management office to a waste collection center every day. Volunteers at the center, most of whom are retirees, will check whether the garbage has been classified correctly. These volunteers are also responsible for teaching residents how to classify garbage.
Residents who sort the garbage in an exemplary manner will be awarded rice, cooking oil and salt by the property management office. The office receives government subsidies.
Experts have said such practice may aid Shenzhen's campaign to promote garbage classification.
Obstacles facing the campaign include insufficient funding, lack of awareness and apathy.
Inauspicious situation
A few residential estates in the city have effectively implemented garbage classification. The success stories were made possible by collaboration between the government and property developers.
Garbage classification was first piloted in Shenzhen in a residential community called Jinse Jiayuan. The community is owned by Vanke, a leading real estate developer in China. Eighty-six percent of the community's residents cooperate in garbage classification. Vanke provided the garbage collection and treatment facilities which collect around12,000 tons of kitchen waste each day, including around 200 kilograms of recyclable material.
However, the city's campaign for garbage classification is mostly a failure. In a survey conducted by sznews.com earlier this month, more than half of the 380 participants said Shenzhen's garbage classification facilities existed in name only.
More than 80 percent of respondents said the communities they lived in hadn't yet adopted waste classification.
Besides, only 16 percent said they understood how they should classify garbage. "I seldom hear people around me talking about waste classification, which seems far from our daily lives," said a netizen using the name Wuditu.
Urgency and ambition needed
Around 14,400 tons of domestic garbage required treatment on each day of June, which represents an almost 10 percent increase compared with the same period last year, according to statistics from the city's urban management bureau.
At the current rate of increase, the city is expected to produce more than 17,800 tons of domestic waste a day by 2015.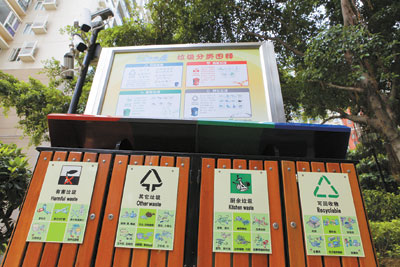 Meanwhile, the city has fewer landfills than it needs and lacks the infrastructure to process its current levels of waste. In response, a government meeting in April concluded that classified disposal of dry and wet waste would halve the quantity of waste that requires treatment.
The government released a plan in late July to promote garbage classification over the next five years.
According to the plan, the city will pilot garbage classification in 500 selected locations this year and gradually promote it across the city next year.
Selected locations for the pilot program will include residential communities, schools, restaurants and industrial parks, according to the city's urban management administration.
Under the program, people will be required to separate kitchen waste, also known as wet waste, from their daily domestic waste and put it into a special bin. The city aims to curb growth in per capita garbage production by 2015, and to have 40 percent of kitchen waste treated, according to the administration.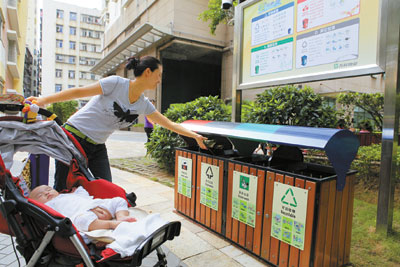 Residents will be required to classify garbage into recyclable waste, kitchen waste, hazardous waste and ordinary domestic waste. Service stations will be set up in residential communities to provide consultation on garbage classification.
In the latest development of the pilot program, the urban management administration said the 500 pilot locations had been selected. However, no details have been released.
In addition, Wu Xuelong, director of the administration's environmental hygiene management department, said the city plans to issue subsidies and compulsory measures to encourage residents to classify domestic waste. Meanwhile, the city's legislature could act on the issue next year, according to Wu.
However, implementing the project at a residential community with 1,000 households would cost the government around 750,000 yuan (US$119,000), according to the administration's estimate.
The government will also need to spend a big sum of money to achieve its goal: completing one kitchen waste treatment plant in each district and new area by 2014.
Netizens' reactions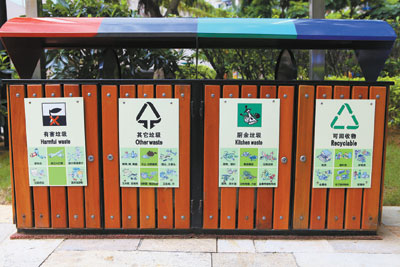 "Many residents still don't know which type of waste is recyclable, because the government has not handed down any comprehensive guidelines. Installing a trash-sorting bin in each residential community is far from enough," said a Sina Weibo user under the name Pinsengxiaoguang.
Another user with the name Yehaoniu said "residents need to be educated about garbage classification, it is more difficult than installing a bin."
According to the government's five-year plan, methods of raising awareness will include a publicity campaign, guidebooks on categorizing garbage and broadcasting advertisements.
Learning from neighboring cities
Under a pilot program set to start next month, Guangzhou will award residents who separate their kitchen waste. Those who fail to separate their kitchen waste in areas where the program is being piloted will be subject to a 50-yuan penalty.
Urban management officers will be tasked with enforcing domestic garbage classification regulations.
In Hong Kong, advertisements promoting trash classification are frequently seen on TV. Besides, guided by a series of detailed regulations, Hong Kong has a large number of garbage sorting bins in residential communities, from where designated companies collect waste each day for treatment.
Under the program, people will be required to separate kitchen waste, also known as wet waste, from their daily domestic waste and put it into a special bin. The city aims to curb growth in per capita garbage production by 2015, and to have 40 percent of kitchen waste treated, according to the administration.