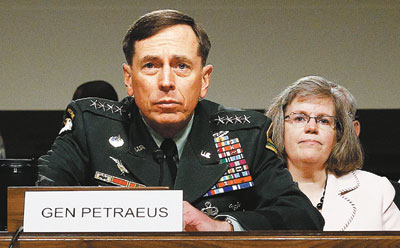 The tangled, tortured story of sex, national security, and jealous e-mails shows that truth really is stranger than fiction. The story of the extramarital affair that brought down previously unimpeachable CIA Director David Petraeus and threatens the career of Afghanistan war commander General John Allen — as well as at least three marriages — is barely believable.
THE increasingly convoluted scandal that led to the resignation of CIA Director David Petraeus has become an endless source of speculation, drama and surprising turns of events.
The affair came to light during an FBI investigation of a complaint that author Paula Broadwell, 40, was allegedly sending harassing e-mails to another woman close to Petraeus, a U.S. official said.
Petraeus, the most celebrated U.S. general of his generation credited with turning around the war in Iraq, resigned last week to pre-empt revelations of an affair with biographer Broadwell, a married army reservist.
Petraeus' affair with Broadwell was discovered after Jill Kelley told an FBI agent friend she had received an e-mail warning her to stay away from Petraeus. The e-mail turned out to be from Broadwell, who apparently regarded Kelley as a rival for Petraeus' affections. Kelley's family and Petraeus aides have said Petraeus and Kelley were just friends.
Petraeus says he never had a romantic relationship with Kelley, the 37-year-old Tampa socialite at the center of the scandal that precipitated his resignation as CIA director and has also jeopardized the future of his successor in Afghanistan, General John Allen, according to a former spokesman and family friend.
The retired four-star general also appeared surprised to hear that Allen was being investigated by the FBI for possibly being involved in a compromising relationship with Kelley himself.
The FBI investigation also raised questions about whether Broadwell may have possessed classified material.
A computer used by Broadwell contained substantial classified information that should have been stored under more secure conditions, law enforcement and national security officials said Wednesday.
The contents and amount of the classified material — and questions about how Broadwell got it — are significant enough to warrant a continuing investigation, the officials said. They spoke on condition of anonymity because they are not authorized to comment publicly.
There are growing concerns among military and law enforcement officials about the potential fallout from the affair between Petraeus and Broadwell.
The scandal has rocked the Washington security establishment but, beyond any personal failings it may have revealed, U.S. President Barack Obama said he had seen no evidence it had harmed the security of the nation or its troops.
At his first post-election news conference Wednesday, Obama praised Petraeus, saying, "We are safer because of the work that David Petraeus has done, and my main hope right now is that he and his family are able to move on and that this ends up being a single side note on what has otherwise been an extraordinary career."
Obama also said that while he would not comment on the ongoing investigation, he does not believe that Petraeus' scandal compromised national security.
U.S. Congress wants to know who knew what about Petraeus' extramarital affair with his biographer, Broadwell, and when. A lot of questions remain — both serious and of the more conspiratorial nature — about the FBI investigation that exposed the affair, the details of the affair itself, and whether any crimes or security breaches occurred in the growing web of deceit.
Even before Petraeus's resignation, there were plenty of unanswered questions about the attack on the U.S. consulate in Benghazi and the response of the Obama administration and the CIA.
Retired Army Colonel Steven Boylan confirmed Wednesday that Petraeus has decided to testify in a congressional investigation into the Sept. 11 attack in Benghazi, Libya, that took the lives of Ambassador Chris Stevens and three other Americans. The House Intelligence Committee later announced Petraeus will testify early Friday morning behind closed doors.
"Yesterday he made the decision to testify before Congress on Benghazi," Boylan said. "He felt it was the right thing to do. He has a great amount of respect for the CIA and their mission. He absolutely loved the job. He didn't feel he could not testify."
Apart from the "few hours" he will spend in testimony, Boylan said, Petraeus is spending all his time attending to his family. "This is the only affair he's had. He knows what kind of damage he's done to his family. Right now that's where his whole focus is, to try to repair that relationship and move on."
In probing Petraeus and Broadwell, the FBI happened upon a vast trove of messages Allen had sent Kelley, a married "social liaison" for U.S. Central Command in Florida who hosted military officers at her Tampa mansion.
The White House has expressed confidence in Allen, after the married four-star general was placed under investigation by FBI agents.
Allen denies any sexual liaison with Kelley, but the volume of correspondence, some of it reported to be "flirtatious" in nature, could amount to a breach of military rules.
"To the extent there are questions about certain communications by General Allen, he shares in the desire to resolve those questions as completely and quickly as possible," the commander's lawyer said in a statement.
"In the meantime, General Allen's duties as the commander of U.S. and NATO forces in Afghanistan remain his primary focus."
Allen had been due to be confirmed by a Senate committee this week as NATO's new supreme commander in Europe, but Obama put the process on hold until the Pentagon completes its investigation.
Petraeus, 60, had an affair with Broadwell that started in late 2011 and ended about four months ago, according to those close to Petraeus.
He first met Broadwell in spring 2006 when he spoke at Harvard, where she was a graduate student. She told the general about her research interests and he agreed to put her in touch with people studying the same issues. "I later discovered that he was famous for this type of mentoring and networking, especially with aspiring soldier-scholars," Broadwell wrote.
Petraeus took command of the CIA 14 months ago, retiring from the military after a storied career in which he commanded troops in Iraq and Afghanistan.
Ambitious, intellectual and possessor of steel will, he ended a 37-year army career in 2011 as a four-star general and one of the most highly regarded soldiers of his time.
As commander of multinational forces in Iraq and Afghanistan, he was credited with turning around U.S. fortunes in both wars. He was chosen to head the Central Intelligence Agency despite previous tactical disagreements with Obama.
He survived prostate cancer, being shot in a training accident and a parachute malfunction that resulted in a broken pelvis. Media savvy and articulate, he was seen by some as a possible presidential candidate.
His last assignments in the army were as commander of the International Security Assistance Force (ISAF) and Commander, U.S. Forces Afghanistan (USFOR-A) from July 2010 to July 2011. As commander of Multinational Force-Iraq from February 2007 to September 2008, Petraeus oversaw all coalition forces in Iraq.
Petraeus has a B.S. degree from the U.S. Military Academy. He was the General George C. Marshall Award winner as the top graduate of the U.S. Army Command and General Staff College class of 1983. He later served as Assistant Professor of International Relations at the U.S. Military Academy and also completed a fellowship at Georgetown University.(SD-Agencies)