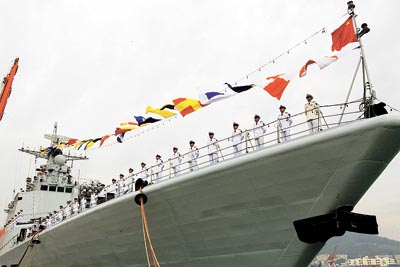 Anne Zhang
    zhangy49@gmail.com
    SHENZHEN resident Liu Jianhua, a naval veteran, was overwhelmed with excitement and joy when he visited China's missile destroyer Shenzhen yesterday at Chiwan Port in Nanshan District.
    The vessel is a naval warship that had convoyed 393 merchant ships and driven away 267 pirate vessels in the Gulf of Aden in less than six months. The vessel is open to visitors at Chiwan Port until tomorrow.
    Liu was among thousands of people who visited the vessel yesterday. Marines in white and blue navy suits acted as tour guides while on board.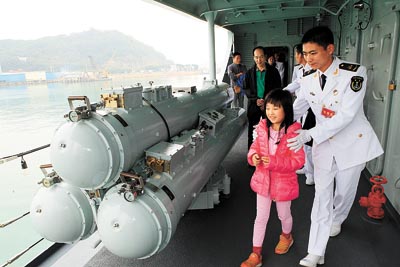 The 50-year-old Liu served in the South China Sea Fleet for more than five years. "I hadn't been on any vessel since 1986 when I was discharged from the navy," he said. "Standing on this missile destroyer, I feel like I'm back in my 20s."
    The new-type modern guided-missile destroyer was designed and constructed by China. It used to be called the Naval 167 and was renamed after Shenzhen in January 1997.
    The vessel, which is still in service, first opened to the public in Shenzhen in July 2008. Liu said he missed the chance to visit the vessel four years ago and must visit it this year. He brought his wife and his 6-year-old son to the vessel.
    "It's a great opportunity for my family to see and experience a place similar to where I lived and worked in my youth," Liu said.
    The vessel had been stationed in the Gulf of Aden in 2009 for 142 days protecting Chinese merchant ships from attacks by Somalian pirates. Zhou Liang, who has been serving on the vessel since 2002, said the vessel was attacked by a group of pirates on the first day it arrived in the gulf. "But we eventually beat back the pirates," Zhou said.