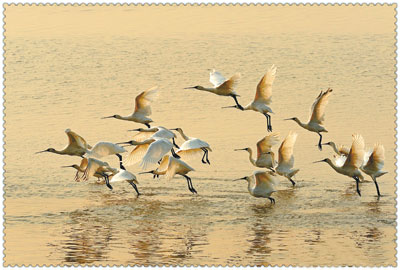 EVERY mid-autumn, more than 60,000 birds will start their annual migratrion, flying from the north part of Asia and making a stopover in Shenzhen, where they spend an entire winter with local residents, many of whom are migrants themselves.
    The birds nest in the city's Mangrove Natural Reserve in Futian. Surrounded by towering buildings and acoustic barriers, the inhabitants of the mangrove live a peaceful life in the rare urban nature reserve which boasts an area 12 times the size of Shenzhen Bay Sports Center.
    Black-faced spoonbill, the very precious migrant species in the reserve, shares shelter with 79 kinds of waterfowls, 11 kinds of sea fish, 66 shell animals, and millions of insects. They create a special wetland ecosystem.
    Having faced threats such as pollution and lake filling, the mangrove inhabitants have a far more intimate understanding of the habitat than any of the citizens. The reserve's management body releases a report on the state of the reserve every April when the migrant birds leave the city. Being informed of the number of migrant birds, local residents show much concern for the future of the migratory birds.
    Local residents can only enter the area with the approval of the reserve management bureau. Expats can pay a visit with permission from the Forestry Department of Guangdong Province. However, walking along the east wing of Shenzhen Bay Park can also give visitors the chance to observe the birds in the reserve. (Tan Yifan)
    1. Black-faced spoonbills.
    2. A black-faced spoonbill catches fish.
    3. A pied avocet.
    4. Fiddler crab, a crab commonly seen in mangroves.
    5. A wild duck skitters across the waterland. Wu Jianhui
    Photos courtesy of Shenzhen Mangrove Natural Reserve unless otherwise stated