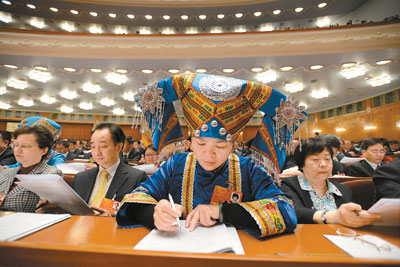 MEDIA outlets around the world have turned their attention to the on-going "two sessions" of China's top legislature and political advisory body. Many domestic and overseas media outlets have sent their most experienced journalists to Beijing as the "two sessions" make headlines around the world.
    As the most important political event in China after the National Congress of the Communist Party of China, this year's annual sessions of the Chinese People's Political Consultative Conference (CPPCC) and National People's Congress (NPC) are set to have a considerable impact on the country's future.
    About 2,200 CPPCC members and 2,987 NPC deputies exercise their right to discuss major issues concerning the country's development during the sessions. And the NPC delegates will elect the new president of China and other key leaders of the new Central Government.
    Meanwhile, the reform policies agreed at the 18th CPC National Congress, which was held Nov. 8, need to go through the NPC, China's top legislature, to become State policies.
    However, the whole nation, not just the delegates, is trying to influence the decision-making process. With the influence of such relatively new phenomena as the Internet and multimedia, China's political system is undergoing one of the more drastic changes in its recent history. Members of the public have unprecedented opportunities to have their demands and desires heard.
    Here are a kaleidoscope of images from the sessions.(SD-Agencies)