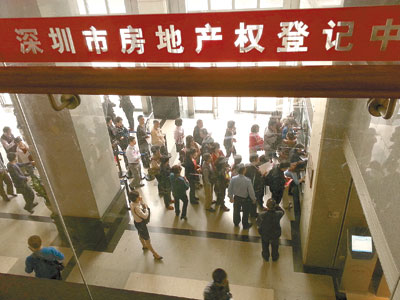 Martin Li
    Martin.mouse@163.com
    A BANK employee in Shenzhen, who only gave her surname as Zhang, divorced her husband last week. However, she doesn't feel sad because it was a fake divorce.
    The divorce split the ownership of the two apartments Zhang and her husband owned. Soon Zhang will sell her only apartment without paying an upcoming 20-percent tax on the gains of home sales. Only sellers of their sole residence bought at least five years ago can be exempted from the tax.
    Aimed at stemming housing profiteering and arresting skyrocketing housing prices in the over-heated market, the Central Government has issued a package of measures, including the 20-percent tax, which is expected to be implemented by local governments as soon as next month.
    Zhang is not alone. A large number of couples in cities such as Nanjing and Shanghai have reportedly rushed to either divorce or complete the sales of their homes before the tax is introduced.
    "We have to find our own way to bypass the government policy which is not in our interest. It is common for Chinese people," said Zhang over the weekend.
    According to a report in the Southern Metropolis Daily at the weekend, the number of people who filed for divorce at the marriage registration office in Luohu District had doubled since the measures were announced. The office in Futian District has seen a slight increase in the number of divorcing couples. A big increase has also been reported in the number of people applying for an unmarried certificate in the city.
    Expert opinions
    Because of the readiness with which couples are divorcing and remarrying, experts have voiced negative views about the effectiveness of the policy.
    "The current housing-driven divorce trend reflects badly on our society, and it is caused by the government policy. When the police infringe upon people's legal interests, people will be forced to find a way to deal with it," Wang Xiaohua, a professor of sociology and mass communication at Shenzhen University, told Shenzhen Daily on Sunday.
    "The motivation of the policy is positive, but there is something wrong with the way it is implemented. A tax increase will only lead to an increase in housing prices. A rise in the cost of housing trade will only benefit the government," Wang said.
    Zhao Mingxin, an associate law professor at Shenzhen University, said that the policy is deemed to be a failure. Previous experience shows the ineffectiveness of raising taxes to control housing prices. In fact, house prices have continued to increase.
    "People will turn to buying new homes when they pay more to buy a pre-owned home. Home purchase for investment is not the major factor behind the rising house prices. The major cause is the government's heavy reliance on land selling, as well as various taxes," said Zhao.
    In a metropolis like Shenzhen, home sellers ask buyers to pay all taxes on their deals.
    Some experts have called for couples, especially young couples, to take their marriages more seriously, instead of as a means to an end.