Anna Zhao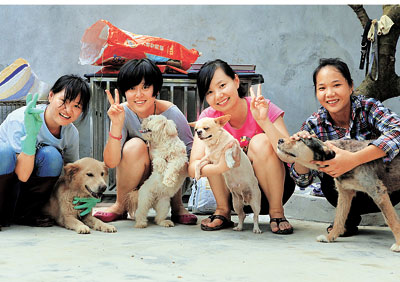 anna.whizh@yahoo.com
    ABOUT 200 stray dogs were moved earlier this year to a shelter near a litchi grove in Makan Village in Xili, Nanshan District. But the Futian Association for Animal Protection, a local nongovernmental organization which helps secure a shelter for the stray dogs, was ordered to relocate by the Nanshan Envioronmental Protection Bureau on Tuesday, out of concerns about water pollution in an adjacent reservior. A neighboring animal shelter, Shenzhen Dog Protection Association, received the same order.
    Fifty dogs with severe illnesses have been sent to different veterinary hospitals for treatment and a few of them have died. Volunteers who are taking care of the remaining 150 dogs said vaccinations and medical treatments are their most urgent needs.
    The dogs, most of them sick or feeble, were abandoned by their owners and taken to the center by citizens.
    Si Qiaodi, a volunteer who spends almost every weekend taking care of the dogs, said the Futian association can only afford to send severely ailing dogs for treatment because of a lack of funds.
    Si said the association had received 30,000 yuan (US$4,856) in donations by the end of June but the money was unable to cover their medical expenses. Si is spreading information through charity organizations for donations and helping hands.
    Sunday marked the second trip for Xu Jinying, an undergraduate student majoring in biomedical engineering at Shenzhen University, to help with cleaning and feeding at the animal shelter. Xu, who has volunteered at several local dog shelters, said she's failed to round up more helpers among her classmates, most of whom turned indifferent eyes and worried that the dogs would transmit disease.
    Those who want to help can contact the Futian association by email: fiona117@163.com or donate to their bank account: 6222 6013 1002 780 7734 (Bank of Communications).