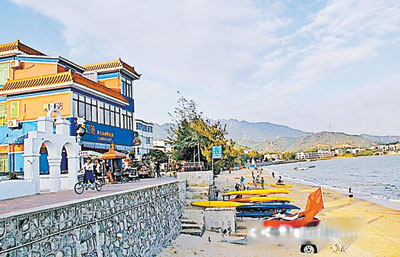 OFTEN called one of the eight most beautiful coasts in China, Dapeng Peninsula is becoming more and more popular among visitors from Shenzhen and around the world. Every weekend, cars rush out of the busy, noisy city and head to the beautiful peninsula known for stunning scenery and fresh air. Due to the increasing number of visitors and a shortage of hotel rooms, many local businessmen have started opening inns to meet the demand. Because of their special decorations and services, many of the inns have now become gathering places for young hikers, overseas visitors and art lovers.
    Jiaochangwei Village
    Jiaochangwei Village may not be as famous as Yangmeikeng or Xichong, but it is the only village in Dapeng with its own coastline.
    There are nearly 150 inns in the village, most of which were rebuilt from old village houses and are managed by the village's hotel management company.
    Most of the inns are built in European styles and furnished with ancient Chinese furniture. Different rooms are decorated with different themes.
    There also are bars, karaoke rooms and leisure areas in the inns, to meet visitors' different needs. Visitors can have an exciting night at the bars or simply relax in the yard with a cup of tea.
    There also are pedestrian-friendly streets in the village with stores, bars and restaurants.
    The average price at inns in the village is about 300 yuan (US$49) per night during the week and about 400 yuan per night on weekends and holidays.
    Family suites cost about 1,000 yuan a night. Visitors are advised to book a room two weeks in advance during the summer.
    Most of the inns don't offer toothbrushes or towels, so bring your own toiletries.
    Yangmeikeng
    Although Yangmeikeng is a popular getaway for many Shenzhen residents, there are not as many special inns as in Jiaochangwei Village. Most of the inns in Yangmeikeng have been opened by local villagers in their homes.
    Yike Hostel was the first to open and is one of the leading special inns in the village.
    "I didn't want to open an inn just for accommodations. I wanted to build a place for foreigners, art lovers and students to enjoy a great time," said Zhu Jing, owner of the inn. "City life is too fast and too stressful. People need a place in neighboring areas to get their minds out of that life and enjoy a slow and quiet weekend."
    There are different themes offered at the inns. Family groups can hold an intimate party together and company colleagues can have a big barbecue in the courtyards.
    Average prices in Yangmeikeng are about 200 yuan per night during the week and about 300 yuan per night on weekends and holidays. (Wang Yuanyuan)