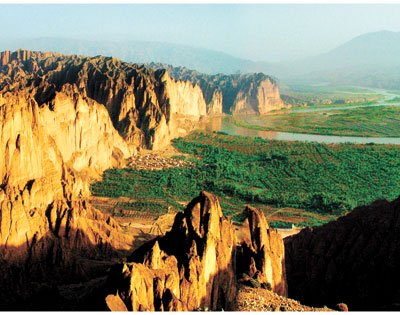 THE Yellow River courses through uncountable terrains and regions, but the Stone Forest in Gansu Province is definitely one of the more dramatic landscapes it graces. The Stone Forest is well-known for its peculiarly shaped towers of rock and heart-stopping mountain precipices that stretch out beyond the horizon.
    Adjacent to the village of Longwan, the Yellow River caresses the southern edge of the Stone Forest, where the common entry point for visitors lies. Donkeys trudge up and down a road that winds past 200 million-year-old towers of sandstone. Such dramatic settings have not gone unnoticed, and many television shows and movies — such as "The Myth" featuring Jackie Chan — have used the Stone Forest as a breath-taking backdrop.
    Unique rock formations proudly sun themselves while peaks as sharp as swords stab at the sky. Inexplicable holes puncture otherwise uninterrupted rock faces. Rock arches and windows defy gravity. Some rock faces are so immense, smooth and perfectly vertical that many visitors wonder if they've been reshaped by mechanical means.
    Over the centuries, the contours of these mountains were shaped by shrugs of the earth's crust, the waters which once submerged the entire area, and wind and rain erosion.
    Most people enter the meandering route at the endpoint of a sheepskin raft trip from Longwan Village, pairing the two events together. From there, wide-eyed visitors wind up the 4-kilometer stretch on foot, in cars, on horseback or by donkey-pulled carts.
    The end of that scenic section isn't an end at all, though the next stage is certainly closed to automobiles. A narrow incline of s-curves weaves its way up to the highest peak in the vicinity. Many visitors either hire horses to take them up or rent electric carts to grind up a steep kilometer of mountain. But even after that there's a long staircase to climb before reaching the peak. A chairlift to the top has been installed, though it hasn't yet begun operating.
    The views from above the Stone Forest slowly reveal that they share little in common with the views from within, which are marked by obscure rock contours and a touch of claustrophobia. From above, the "forest" transforms into a sea of jagged edges, tinged in sepia. Stunningly desolate, the broken layers of precipices receding into the distance appear entirely devoid of life. It's a beautiful meditation on the painstaking and relentless passage of time, and a peek at a quiet and forsaken world that somehow offers solace in our ephemeral lives.
    How to get there: Take a flight from Shenzhen International Airport to Lanzhou, Gansu Province. From Lanzhou, the Yellow River Stone Forest is a 136-km, two-hour drive to the north. For those who want to explore the area for a few days, many local farmers offer reasonably priced guest houses.
    (CRI)