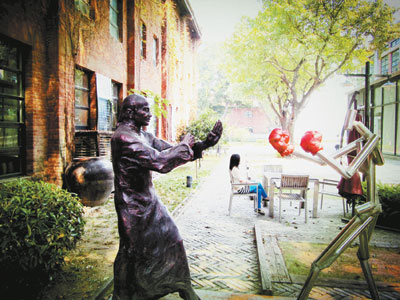 OCT-LOFT in Nanshan District is an outstanding example of the successful transformation of old factory houses and industrial parks into a modern destination for arts and culture. If you are a fan of art spaces like OCT-LOFT, then it's only a short trip to the heart of art and culture in South China — Guangzhou. Here are the best spots that should be included on any trip's itinerary.
    Xinyi Club
    Located in Bai'etan, the Xinyi Club is the former water power plant factory. Abandoned, it was later rebuilt into a cultural, commercial and exhibition venue by several estate developers in 2002.
    Twelve vintage factory buildings have been sympathetically transformed into 25,000 square meters of cultural space. Slogans for the old plant are still painted on the walls and 83 ancient banyan trees still stand in the area.
    Sometimes, in the evenings it hosts art exhibitions and fashion shows, but most of the time it provides a quiet spot for people to read and relax.
    Various art studios, photography and advertising companies are located in the club. Their offices are another highlight of the venue and well worth a visit, as many companies have designed them in different and fun themes.
    Add: 1 Xiashizhi Street, Fangcun Boulevard, Liwan District, Guangzhou (广州荔湾区芳村大道下市直街1号)
    Metro: Line 1, Fangcun Station (芳村站), Exit B2
    Concept 225
    There is a small building, built in the 1940s on Beijing Road, which has managed to gather together in one place some of the most beautiful things that Guangzhou has to offer.
    The building used to be home to an ancient-style grocery store, a jewelry shop and a small photography studio, but it was remodeled into a place packed with hidden design gems. The property features a European-style garden, a flower-art hall, an art exhibition venue, a trading area and a second-hand book shop.
    The garden is home to a variety of flowers while the second floor hosts the largest French-style flower store in South China. Visitors can enjoy old movies and videos on a sofa in the video room, or have a look at the large collection of ancient maps.
    On the fifth floor there are stores selling bespoke crafts and gifts, perfect for those who appreciate the finer things in life.
    Add: 225 Beijing Road South, Yuexiu District, Guangzhou (广州越秀区北京南路225号)
    Metro: Line 1, Dongshankou Station (东山口站), Exit C (Wang Yuanyuan)