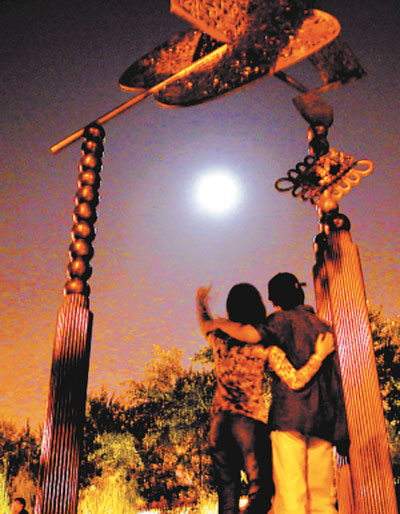 THE Mid-Autumn Festival, falling on Sept. 19 this year, is a traditional festival that has been celebrated by Chinese people for thousands of years.
    The festival is held on the 15th day of the eighth month in the lunar calendar. On the night of the festival, Chinese people gather with family members to appreciate the full moon while enjoying delicious moon cakes.
    In Shenzhen, several spots are perfect for a warm family reunion or gathering of friends.
    Civic Square, Futian
    Located between Civic Center and Shennan Boulevard, Civic Square is the most important square in the city. The square has grass and shrubs covering about 100,000 square meters that are ideal for outdoor activities. It also has two ponds with plants such as lotuses.
    Three light towers stand in different areas of the square. The towers are about 25 meters tall and can change their colors to celebrate different holidays.
    Located downtown, the square is an ideal place for a big family reunion including children and the elderly. Family members can fly kites, play games and chat on the grass while appreciating the beautiful full moon above the city's modern landscape.
    Metro: Longhua Line or Shekou Line, Civic Center Station (市民中心站), Exit C
    Mangrove Nature Reserve, Futian
    Mangrove Nature Reserve is the country's only national nature reserve located in a downtown area. Rare plants abound here and it is a paradise for egrets and other birds.
    Each year, about 100,000 migratory birds of 180 species come to the reserve during winter. More than 20 of the species are rare and protected.
    Sitting in the reserve with family members or a lover on the night of the Mid-Autumn Festival is a tradition for many Shenzhen residents. The beautiful full moon, the trees, the birds, the landscapes and the fireworks will make you feel like you are on top of the world.
    Metro: Shekou Line, Hongshuwan Station (红树湾站), Exit A
    Window of the World,
    Nanshan
    Located in Nanshan District, the Window of the World is a well-known cultural theme park in the city.
    As a park promoting worldwide cultures and civilizations, it offers vivid replicas of the world's wonders, historical landmarks and famous scenic sites.
    Covering 480,000 square meters, the collection is divided into parts based on continents and nations, with 118 scenic spots from throughout the world. Restaurants and bars line International Street, where you can sample food and drinks from France, Germany, Italy, Austria, Russia, Japan and Thailand.
    Especially eye-catching is the 108-meter-tall replica of the Eiffel Tower. At its top, you can see Shenzhen and part of Hong Kong.
    Enjoying the evening of the Mid-Autumn Festival in the park with family and friends is always exciting. Entertaining performances and a variety of activities will be held throughout the park.
    Metro: Luobao or Shekou Line, Window of the World Station (世界之窗站), Exit I or J
    (Wang Yuanyuan)