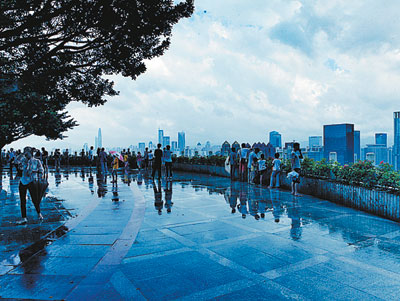 THE Mid-Autumn Festival falls on Sept. 19 this year and is a traditional festival for Chinese people. Here are more local spots that are perfect for a warm family reunion or gathering of friends.
    Lianhua Hill Park
    Covering 166 hectares, Lianhua Hill Park offers large clusters of greenery downtown.
    Located north of the new city center in Futian District, the 106-meter-high hill gets its name from its lotus-like shape.
    There are two ideal places to see the full moon on the Mid-Autumn Festival: the top of the hill and the giant kite field. At the top of the hill stands a statue dedicated to late Chinese leader Deng Xiaioping, commemorating his role as a great planner and developer of the Shenzhen Special Economic Zone. At the crest is a plaza where people can get a bird's-eye view of the city while enjoying the bright moon with family members and friends.
    The kite field, located in the park's southeast, covers about 160,000 square meters.
    Add: Hongli Road West, Futian District (福田区红荔西路)
    Metro: Longhua Line, Children's Palace Station (少年宫站), Exit B2
    Wutong Mountain
     Rising 944 meters, Wutong Mountain is the highest peak in Shenzhen and regarded as one of its most beautiful hiking spots.
    Sheltered by lush greenery, the mountain paths offer fun for hikers on the night of the Mid-Autumn Festival, offering scenic spots to stop and enjoy the beautiful views and romantic moon.
    A paved road with a number of winding paths leads to the summit, which offers breathtaking views of Dapeng Bay to the east and the cityscape to the south.
    Chatting and cuddling with loved ones on a rock atop the mountain under the bright moon on the night of the festival would be an unforgettable experience.
    Add: 2076 Luosha Road, Luohu District (罗湖区罗沙路2076号)
    Buses: 84, 211 (Dawang Village Stop) (大望村站)
    Fenghuang Mountain
     Located in Fuyong, Bao'an District, the 678-meter-high Fenghuang Mountain covers 1.2 square kilometers.
    Mountains in the area are covered with large evergreen trees and fragrant flowers everywhere. Fountains, caves, stones and old temples give the mountain splendid scenery and unique charm.
    The mountain area is divided into three parts: a scenic pagoda at the foot of the mountain, a temple site on the mountainside and a scenic sunset spot on the top of the mountain.
    On the night of the Mid-Autumn Festival, families can appreciate the moon with a cup of tea, while enjoying public activities such as riddle games and poetry writing.
    Add: Fenghuang Village, Fuyong, Bao'an District (宝安区福永凤凰村)
    Buses: M251, M334, M335, 650, B711 (Fenghuang Forest Park Stop) (凤凰森林公园站)
    (Wang Yuanyuan)