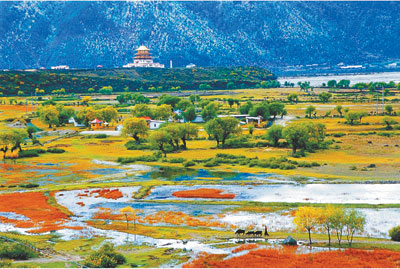 THE Ninth Yarlung Zangbo Grand Canyon Cultural Tourism Festival will be held Oct. 18-24 to celebrate the unique natural landscapes and special folk customs in Nyingchi Prefecture, Tibet.
    Tourists will be able to take in views of breathtaking glaciers, a holy lake and a grand canyon, while experiencing special folk customs of the Monpa and Lhopa people in the Kongpo area.
    The festival will also include various material-exchange fairs, folk singing and dancing performances, traditional sports competitions, photography exhibitions, souvenir exhibitions and other eclectic activities during the celebration.
    Located in southeastern Tibet, Nyingchi Prefecture is an area known as "South of the Yangtze River on a Plateau" and "Switzerland on a Plateau." With abundant water resources and a pleasant climate, the area has huge forests and a wealth of natural resources.
    Tibetans and the Lhopa and Monpa ethnic groups inhabit the mountain areas and river valleys of Nyingchi.
    The Yarlung Zangbo Grand Canyon, along the Yarlung Zangbo River, is one of the deepest canyons in the world. The 505-kilometer-long canyon bends around Namcha Barwa Mountain and cuts its way through the eastern Himalayas, with numerous waterfalls.
    More than 140 scenic spots have been discovered in the area, including the Grand Canyon, the Lulang Forest Sea National Park, the holy Lake Baksumtso, Lieshan Ancient Tombs and Giant Cypress Forest.
    Next month's festival will integrate culture, artistry, activities and sightseeing in Nyingchi.
    The annual tourism festival is a landmark event in Nyingchi that's intended to attract tourists in autumn and winter. Promotions such as half-price discounts for tourism attractions and discounted rates in high-end hotels will be offered from Nov. 1 to March 31.
    For foreigners, they must apply for travel permits through travel agencies to enter Tibet.
    Nyingchi's altitude averages about 3,100 meters above sea level, which makes it the lowest place in Tibet and decreases concerns about altitude sickness for tourists.
    Get there: Fly to Chengdu, Sichuan Province, from Shenzhen Bao'an International Airport, then fly to Nyingchi from Chengdu.
    (Wang Yuanyuan)