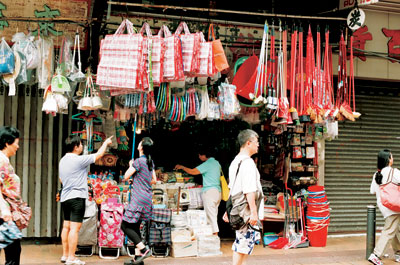 WHILE many mainlanders are eager to visit Hong Kong for its modern cityscapes and broad shopping appeal, many Hong Kong locals often choose to get away from the bustling crowds by exploring different parts of the city.
    Old-style architecture
    Wing Lee Street is one of the few memory-inspiring places remaining for Hong Kong locals.
    Located in Sheung Wan, many buildings from the 1960s are still standing in the area. The street has been described as "the seediest street in Hong Kong," and the urban renewal authority once planned to redevelop the street. However, after "Echoes of the Rainbow" was filmed on Wing Lee Street and won the Crystal Bear for the Best Film in the Children's Jury Generation Kplus at the 2010 Berlin Film Festival, the redevelopment plan was scrapped because of many Hong Kong residents' protection activities.
    Along the old stone road, many small family stores with giant painted signboards are still open, and locals still follow traditional Hong Kong lifestyles.
    The area remains very reminiscent of scenes and lifestyles in the 1960s.
    Colonial-era culture
    Old buildings from the colonial era are a great choice for people seeking to trace the city's history.
    One such building is Government House, located on Government Hill in the Central District of Hong Kong Island. The building was the official residence of the governor from 1855 to 1997, when the city was under British rule. Twenty-five of Hong Kong's 28 governors in that time used the building as their official residence.
    The building was constructed in 1855 in Colonial Renaissance style, but was significantly remodeled during the Japanese occupation, resulting in the current hybrid Japanese-neoclassical form. It is now the official residence of the chief executive of Hong Kong.
    Bridges Street in Sheung Wan is another must-go spot for people seeking to explore Hong Kong's colonial-era culture. Recommended landmarks include Bridges Street Market, Center State, Ladder Street, The Church of Christ in China and Chinese YMCA of Hong Kong.
    Migrant lifestyles
    Many new migrants, mostly mainlanders who have moved to Hong Kong over the past 10 years, have clustered in Tin Shui Wai, creating a new lifestyle that combines Hong Kong and mainland cultures.
    Located in Yuen Long District of the New Territories, Tin Shui Wai was originally a fishing area and became a new town in the late 1980s.
    The area became widely known by the public after the release of an award-winning movie, "Night and Fog," which tells the tragic story of a poor Hong Kong man who marries a mainland woman.
    For many Hong Kong locals, the area is full of mystery and sadness, and also a place to explore unfamiliar mainland cultures. (Wang Yuanyuan)