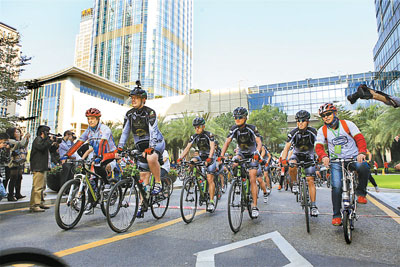 Zhang Jiana, Martin Li
    martin.mouse@163.com
    CYCLING enthusiasts set off from Futian Shangri-La, Shenzhen on Saturday morning to start the "Ride for Hope," a charity fundraising event organized by the hotel.
    Six cycling enthusiasts will bicycle to 22 cities in four provinces within three weeks before arriving at their destination, Shanghai. The distance will top 2,000 kilometers and includes stops in Guangzhou, Fuzhou, Ningbo, Wenzhou, Hangzhou and Suzhou.
    At each stop, they will be accompanied for a certain distance by cyclists organized by local Shangri-La hotels.
    Wearing professional cycling attire, more than 100 riders, including adults and children, accompanied the six participants on the first leg, a 22-kilometer ride from the hotel to Xili in Nanshan District.
    The six cyclists then continued to ride toward Guangzhou. They left Guangzhou yesterday.
    "I want to do some charities this year for China, and we want to do it in a way that people will remember. Cycling is popular in China and it's easy to get [a bicycle]. Everyone can go cycling for charity," Nicholas Smith, resident manager of Futian Shangri-La, Shenzhen and initiator of the event, told Shenzhen Daily at Saturday's launching ceremony.
    Smith is one of the six cyclists committed to completing the whole journey.
    Smith said he and the other five cyclists have been training for three months and rode between 80 and 150 kilometers in early mornings three times a week.
    Among Smith's partners are Thomas Bird, a British freelancer in Shenzhen, Carl Wu, a young cycling enthusiast in the city, and Li Xiaobao, who has bicycled 2,600 kilometers from Yunnan to Lhasa.
    "All the money collected will go to fund three selected beneficiaries: a group of villagers living in the Guangxi Zhuang Autonomous Region, Shenzhen Blue Ocean Conservation Association and the WILL Foundation," said Emil Leung, area manager and general manager of Futian Shangri-La, Shenzhen.
    About 134,393 yuan (US$22,060) has been collected, according to the event organizers.
    Twenty water cellars will be built for households in an underdeveloped village in Guangxi, a project that will need about 120,000 yuan. The village is home to the Yao people, an ethnic minority in China.
    The villagers used to obtain precious water from stone caves during rainy seasons. Having now lost their only access to water, the villagers urgently need to build water cellars for storage, which will be sufficient for a year's consumption.
    "It's very important to raise money for the Yao in Guangxi. China changes very quickly … which affected the minorities who live in a traditional way of life," said Bird, who visited Guangxi to stay with a Yao family last month.
    Money raised during the ride will also benefit the Shenzhen-based Blue Ocean Conservation Association, which hopes to plant artificial reefs to protect marine animals. The association is China's first nonprofit, nongovernmental organization dedicated to protecting the ocean environment.
    Money from the ride also will go to the Shanghai-based WILL Foundation, which cares for orphans. The foundation is committed to giving children in difficult family situations a chance to flourish.