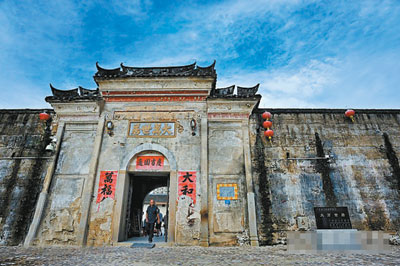 Wang Yuanyuan
    cheekywang@hotmail.com
    ALTHOUGH Shenzhen is known as a young city of about 30 years, it actually has a long history. In fact, there are several ancient cultural sites that remain in the city. Here are the two of the most well-known ones:
    Hehu New Residence
    Hehu New Residence, also known as the Crane Lake Fortified Hakka Village, in Longgang District, is the largest grouping of Hakka residential architecture in the country. Located in Luoruihe Village in downtown Longgang Subdistrict, the village covers an area of 27,890 square meters.
    It has 179 homes and each home has one to three rooms. The village is surrounded by walls and the front gate is magnificent.
    It is said that the area used to have great water resources and large grasslands which are ideal for cranes to rest and live, so it was called "Crane Lake" by the locals.
    The village was built by the Luo family, originally from Fujian Province, around 1817. The family was well-known for their business operations and has made fortunes all over the world.
    Add: 1 Luoruihe Street North, Nanlian Community, Longgangn Subdistrict, Longgang District (龙岗区龙岗街道南联社区罗瑞合北街1号)
    Metro: Longgang Line, Nanlian
    Station (南联站), Exit B
    Dawan Residence
    Dawan Residence is located near downtown Pingshan New Area. Covering an area of about 15,600 square meters, it used to be home for more than 100 families.
    The building was built by the Zeng family around 1791, and is also one of the largest Hakka round houses in the country.
    Inside the residence, there are several artistic spots worth seeing. For example, complex Baodouxin is well-known for the artistic roof with Chahu'er, a roof decoration which also serves as a lightning rod.
    The residence faces west, which is not very common in ancient Chinese architecture. This is because the building group was built on a marsh area and the west side is lower than the east side. To the south and the north of the residence, there are several mountains. The view is unforgettable when standing at the front door of the residence and looking at the sunset.
    Add: Kejia Village, Pingshanxu, Pingshan New Area (坪山新区坪山墟客家村)
    Buses: M268, M279, M298, M357, 365, M368, B762, 812, 818, 823, B825, 833, 939, 988 (Wang Yuanyuan)