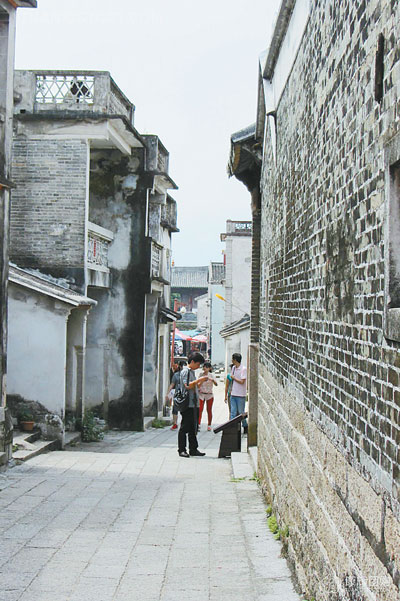 Wang Yuanyuan
    cheekywang@hotmail.com
    ALTHOUGH Shenzhen is known as a young city of about 30 years, it actually has a long history. In fact, there are several ancient cultural sites that remain in the city. Here are some of the most well-known ones:
    Dapeng Fortress
    About 55 kilometers from the city center in Dapeng New Area is Dapeng Fortress, which is one of the city's top eight scenic spots.
    Sprawling 110,000 square meters on the shoreline of the district, the fortress is the most complete military fortress of the Ming Dynasty (1368-1644) in Southeast China.
    It was built in 1394 by a general called Zhang Bin to resist Japanese pirates.
    The best preserved area is the 2,500-square-meter mansion of General Lai Enjue, who led Chinese troops in fishing boats to defeat the better-equipped British troops in the waters off Kowloon, Hong Kong, in 1839.
    Other must-see spots in the fortress include the barns and the Tianhou Temple.
    The fortress has a very important meaning to Shenzhen in that the city is named after it — the nickname of Shenzhen is "Pengcheng," (the City of Peng), which refers to the mythological "roc" bird in Chinese.
    Add: Pengcheng Village, Dapeng Township, Dapeng New Area (大鹏新区大鹏镇鹏城村)
    Buses: B756, 928
    Nantou Ancient Town
    Located in Nanshan District, Nantou Ancient Town, also known as Xin'an Ancient Town, was built in 1394.
    It was first built to guard Dongguan and later became a government department location for Xin'an County.
    Inside the town, there is Guandi Temple and Dongguan Chamber and Maritime Defense Public Department. Traditional residential houses and temples with styles from the Qing Dynasty can also be seen inside the ancient town.
    The best way to have a bird's-eye view of the ancient town is by standing on the top of Nanshan District's Labor Bureau Building.
    According to ancient county records from the town, Shenzhen has a history of more than 1,600 years.
    Add: 2 Nantou Jiaochang, Shennan Boulevard, Nanshan District (南山区深南大道南头较场2号)
    Buses: N11, 42, 78, 201, 301, M371
    Longtian Residence
    Located in Kengzi Subdistrict, Longgang District, Longtian Residence covers an area of more than 16,000 square meters.
    The whole area is shaped like a turtle shell, which is very rare among Hakka-style round houses.
    At the northwest of the house, there is a small stone bridge to connect with the outside world. A tower has been built on the bridge for security purposes.
    Inside the residence, there are a large number of gates, making it a kind of miniature city in the area.
    The residence was built by the Huang family around 1837 and became the district's first cultural venue which needed to be preserved.
    Add: Tianduanxin Village, Kengzi Subdistrict, Longgang District (龙岗区坑梓街道田段心村)
    Bus: 380