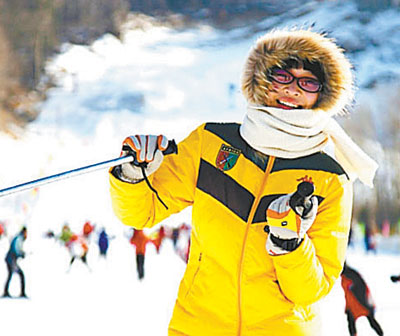 IT'S now the best time of the year for skiing in China, and you don't necessarily have to travel to the northeast of China for snowy fun. There are some areas in the southern part of China which also provide good facilities and magnificent views for skiers who don't have so much time or such a high budget. The weather and environment are also more comfortable, which are perfect for those who are used to warm life in Guangdong Province.Shennongjia ski field,
    Hubei Province
    Operation time: Dec. 25 to March
    The Shennongjia Ski Resort is one of the largest ski resorts in South China.
    Lying in the beautiful Shennongjia Forest area in Hubei Province at an elevation of 2,000 meters, the resort is located on the top of Jiuhuping Mountain.
    It has slopes of low and middle levels ranging from 5 to 15 degrees. A drag-lift ropeway running in an S-shape offers thrilling fun for riders.
    It is a fun and safe skiing experience. It is also the closest ski field to Guangdong, making it a very suitable place for new learners from southern China.
    The snow view in Shennongjia is also magnificent with unique mountains and beautiful trees. Families and friends can also explore to find the mysterious Shennongjia Wildman (also known as the Shennongjia Yeti).
    Transport: Fly to Wuhan, capital of Hubei Province, and take a train or a coach to Shennongjia Forest.
    Emei ski field,
    Sichuan Province
    Operation time: December to March
    Located in the Leidongping Scenic Area in the world-renowned Emei Mountain, the Emei ski field is known as one of the most popular ski fields in South China for its beautiful winter scenes and top facilities.
    The average annual temperature in the area is 5 degrees Celsius, making it a "warm" ski field perfect for the elderly and children.
    The field has different areas such as a new-learner ski field, high-mountain ski field, snow fight area and ice sculpture area.
    A snow festival featuring skating performances, ski competitions and games will also be held every January. For relaxation, there are also several hot spring spas offered in the mountain area.
    Transport: Fly to Chengdu, capital city of Sichuan Province, and take a coach to the Emei Mountain.
    Xiling Snow Mountain ski field, Sichuan Province
    Operation time: End of November to March
    Located in Dayi County in Sichuan Province, the Xiling Snow Mountain ski field is only about 95 kilometers away from downtown Chengdu.
    Known as "the Alps of the East," the mountain has the largest and the best high mountain ski field in the southern area of China. Presently, there are 10 ski tracks to meet skiers' demands. It also has nearly 20 other entertainment facilities such as snow motorcycles, frisbees, vans and snow diving.
    The scenic landscape is also magnificent in winter with snowy forests, strange cliffs and many special plants.
    Transport: Fly to Chengdu from Shenzhen airport and take a coach to the mountain.(Wang Yuanyuan)