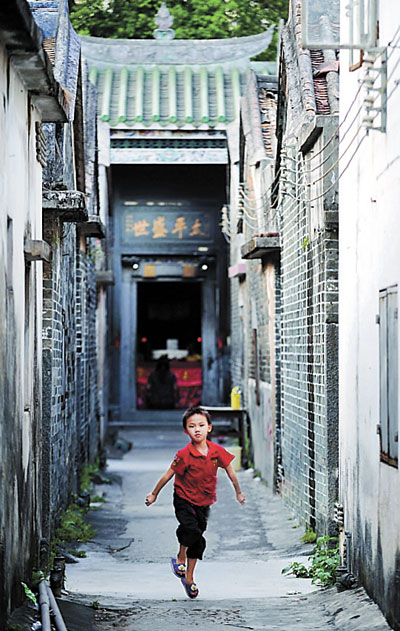 ANCIENT cultural sites such as Hubei Village, Hehu New Residence, also known as the Crane Lake Fortified Hakka Village, and Dawan Dwelling are widely known by Shenzhen residents as witnesses of the city's history and fast development. However, there is an ancient residence in Sungang Village, Luohu District, which has been rarely covered by the media. Why not to take a short trip to this village to experience the glorious and sad history of the He family?
    Family house of
    the He family
    Located in the Sungang Logistics Area, the old round house lies quietly under the Rainbow Bridge. Called "the old residence of founding father," the house, which was originally built in the Ming Dynasty (1368-1644), is now a historic site under Guangdong Province protection.
    The round house is basically a big yard with more than 140 rooms. There are nine lanes inside the yard, but they are difficult to access because they are in need of repair. The whole area is about 68 meters wide from east to west and about 63 meters long from north to south. It retains the significant architectural style from the Ming and Qing (1644-1911) dynasties.
    It is said that there used to be four blockhouses in the four corners of the yard, but they fell down hundreds of years ago.
    According to historical records, local people built a temple to commemorate He Zhen (1321-1388), the founder of the round house. The original temple crumbled in the Qing Dynasty, but it was rebuilt by his great-great-grandson. However, there is no He temple inside the round house now. Many of the original villagers in Sungang Village worship in a small temple for the land god inside the yard and in a small Tianhou Temple outside the yard.
    History of the He family
    He was a well-known figure in the early Ming Dynasty. According to the historical record of the Ming Dynasty, He was born in Dongguan and became an official in what is now known as Heyuan City, Guangdong Province, in the late Yuan Dynasty (1279-1368). Due to his significant contributions during the establishment of the Ming Dynasty, He was called a "founding father" of the Ming Dynasty.
    He and his sons worked hard for the Ming administration in the Guangdong area and were highly praised by Zhu Yuanzhang, the first emperor of the Ming Dynasty. The family gradually became one of the most influential families in the Guangdong area. He died in 1388 at the age of 67.
    However, five years after his death, another "founding father" of the Ming Dynasty, Lan Yu, was charged by Zhu for violations. He's oldest son He Rong, who was a subordinate of Lan, was also killed by Zhu. He's brother, He Di, then decided to rebel against the Ming court to protect the family, but was also killed. Only one of He's eight sons, He Chongzu, survived the crisis.
    He Chongzu and his family hid in the mountain areas for years until they could come back to Sungang Village to rebuild the family residence after Zhu's death. The family houses of the He clan have remained the same for almost a thousand years.(Wang Yuanyuan)