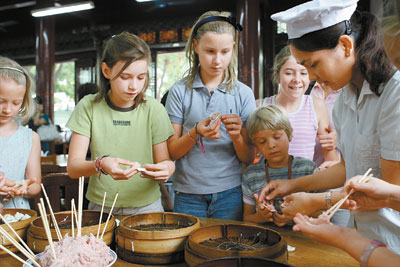 MARCH and April are normally not a travel season for Chinese people, so there are fewer travelers in many popular destinations across the country. Why not take this chance to explore some major tourist sites and seek a bite of traditional China.
    Beijing
    Beijing, the capital of the People's Republic China, is the nation's political and cultural center. As one of the six major ancient cities in China, it has been the heart of politics and society since the Ming Dynasty (1368-1644).
    Although spring may not be the most beautiful time in Beijing, it is still a great time to explore splendid historical heritages such as the Great Wall, the Forbidden City, the Summer Palace and the Temple of Heaven if you prefer a quiet trip.
    The most well-known traditional delicacy is surely the old Beijing-style noodle with fried meat sauce, also known as zhajiangmian. Made with famous Beijing sauce, the noodle is a thick wheat noodle topped with a savory pork sauce, which is a bit sweet and spicy. Prime Minister of Canada Stephen Harper and Vice President of the United States Joe Biden both highly praised the noodle when visiting Beijing. Haiwanju is the most famous restaurant for the noodle.
    Other well-known traditional Beijing delicacies include Peking duck from Quanjude, mutton hotpot from Donglaishun, and fried pork liver from Yaoji.
    Transport: Fly to Beijing from Shenzhen airport and take a taxi to the restaurants.
    Chongqing
    Chongqing is a major city in Southwest China known for its hot summer, hotpot and hot girls. It is the economic center for the upstream Yangtze basin and is the major manufacturing center and transportation hub of Southwest China.
    Being "the city of mountains," Chongqing has a unique cityscape with many stair walkways. Although many of these have given way to highways, you can still experience these walkways if you walk from Chaotianmen Port to Jiefangbei, the center of old Chongqing.
    Other sceneries include Ciqikou, Zhazi Cave, Bai's Mansion and Xiling Snow Mountain.
    Chongqing fare is a hybrid of Sichuan cuisine and local specialties. The city center is filled with restaurants and food stalls where you can have a filling meal for less than 10 yuan.
    Its most famous dish is its super spicy hotpot. Well-known hot-pot restaurants include Kongliang, Xiaotian'e, Dezhuang and Liuyishou.
    Transport: Fly to Chongqing from Shenzhen and take a taxi to Jiefangbei.
    Shanghai
    Shanghai is a renowned international metropolis. Situated on an estuary of the Yangtze River, it serves as the most influential economic, financial and technology center in East China.
    As one of the most important cities in modern China, there are many must-see places in Shanghai, including The Bund, Nanjing Road, Yuyuang Garden, Tianzifang, and Jade Buddha Temple.
    The famous Chinese soup bun and fried soup bun are originally from Shanghai. With a history of more than 100 years, the snacks are known for their fresh meat and delicious broth. Nanxiang Bun Shop near Chenghuang Temple and Guqi Garden in Nanxiang Township are the two most popular places for these delicacies.
    Transport: Fly to Shanghai from Shenzhen and take a taxi to the restaurants.
    Xi'an
    As one of the oldest cities in China with more than 3,100 years of history, Xi'an, capital of Shaanxi Province, was the capital for 13 Chinese dynasties and was the eastern terminus of the Silk Road.
    There are many well-known historic spots in downtown Xi'an, including several Tang Dynasty-style buildings such as the City Wall, Dayan Tower, the Bell Tower, and the Drum Tower.
    Other must-go spots near Xi'an include the terra-cotta army museum, known as "the eighth wonder of the world," and Huashan Mountain.
    Xi'an is also famous for its large number of local delicacies.
    Located behind the Drum Tower, Muslim Street (also known as Huimin Street) is known as a snack street because of the various local delicacies and Shaanxi snacks available there.
    Famous snacks include roujiamo (also known as Chinese hamburger), liangpi (cold noodle), Qishan noodles, soup buns and dumplings.
    Mutton/beef and pita bread in soup is a must-try in Xi'an. The fresh Muslim-style pita bread and thick mutton/beef soup make it a unique delicacy combining the taste of Muslim and Han foods. Laosunjia and Laomijia on Muslim Street are two popular restaurants for these snacks.
    Transport: Take a flight to Xi'an and take a taxi to downtown Xi'an.(Wang Yuanyuan)