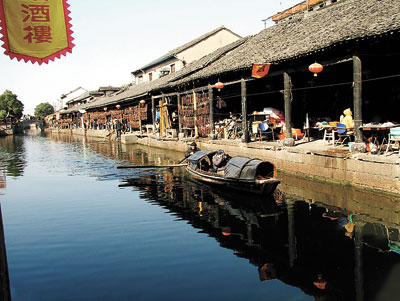 MARCH and April are normally not a travel season for Chinese people, so there are fewer travelers in many popular destinations across the country. Why not take this chance to explore some major tourist sites and seek a bite of traditional China.
    Shaoxing
    With thousands of years of history, Shaoxing of Zhejiang Province is famous for deep cultural connotations. Known as a city of bridges, calligraphy, tea and scholars, the city lies to the south of the Yangtze Delta near Hangzhou, capital of Zhejiang Province.
    Numerous accomplished scholars and cultural figures were born or lived in Shaoxing. For example, the well-known Chinese scholar and writer Lu Xun was born in this city and wrote many articles about his childhood in Shaoxing.
    Yellow wine is the most representative delicacy of Shaoxing. As one of the oldest wines in China, the yellow wine plays an important role in Shaoxing locals' daily life. The wine has a special aroma that is perfect not only for drinking but also for cooking. Many traditional locals in Shaoxing have the yellow wine every day.
    Other must-try delicacies include Shaoxing-sytle duck, fish and pig heads seasoned with soy sauce. There are several restaurants in Shaoxing with 100-year histories, such as Xianheng Restaurant, Lanxiang Restaurant, Tongxinlou, and Juleyuan Restaurant.
    Transport: Fly to Hangzhou from Shenzhen and take a coach to Shaoxing.
    Hangzhou
    Situated in Zhejiang Province, Hangzhou is known as a "paradise on earth" by the Chinese. When Italian merchant traveller Marco Polo came to Hangzhou in the 13th century, he described the city as "the most beautiful and elegant city in the world."
    The city has many wonderful scenes, rich culture and relaxed inhabitants. West Lake is the No.1 scenic spot in the city.
    Zhejiang cuisine is one of the "eight greatest cuisines of China," and Hangzhou cuisine is its representative. It emphasizes fresh and sweet flavors.
    The most well-known dishes in Hangzhou include Longjing shrimp (fried shrimp with tealeaves), West Lake vinegar fish (steamed fish with vinegar), beggar's chicken (chicken roasted in soil), Dongpo pork (braised pork) and tofu.
    Hangzhou is also entitled the "capital of tea." It's generally acknowledged that the West Lake Longjing tea is the best tea in China. The tea grows only in some certain areas around the West Lake and can cost from 800 to 2,600 yuan (US$126-409) for 500 grams.
    Transport: Fly to Hangzhou from Shenzhen airport and take a taxi to the downtown Hangzhou.
    Wuhan
    Spring is the best time to explore Wuhan, capital of Hubei Province, as it's when the romantic cherry blossoms bloom. Wuhan University, one of the top universities in China, is the best place in China to enjoy the flower.
    As a historical city in China, there are many attractions such as Huanghe Tower, Wuhan Yangtze River Bridge, Shouyi Park, and Jiqing Street.
    Breakfast plays an important role in Wuhan locals' lives, which makes the city a "city of snacks." The most famous snack is hot dry noodle, a type of noodle with sesame sauce. Cailin Hot Dry Noodle Shop is the most recommended restaurant to taste this traditional dish.
    If you want to experience all the traditional snacks in Wuhan, Hubuxiang is the most convenient spot. The whole street is full of snack shops and restaurants, all offering traditional delicacies such as beef noodles, fish balls, glutinous rice in lotus leaf, soup bun, chicken dumpling, glutinous rice with wine, rice cake and fried cake.
    Transport: Fly to Wuhan from Shenzhen airport and take a taxi to the restaurants. (Wang Yuanyuan)