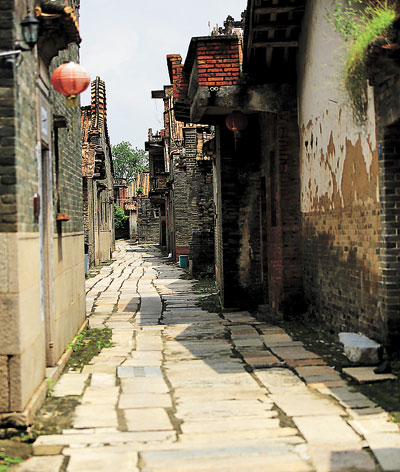 LANGTOU Village in Huadu District was recognized as the second National Historical Cultural Village in Guangzhou in a recent national survey. The 643-year-old village is by far the largest and best-preserved ancient village in Guangdong. Why not take a short trip to the village on the weekend to have a taste of traditional Guangdong lifestyle and culture.
    Ancient architecture
    Originally built during the Southern Song Dynasty (1127-1279), Langtou Village has more than 380 ancient buildings with the architectural styles of the Ming and Qing dynasties.
    Covering an area of more than 60,000 square meters, there are 18 ancient alleys and more than 10 gate towers in the village.
    Shentan River runs across the village and cuts the village into three parts, east, central and west. Outside the village is a pool built for gathering feng shui. It is said that the pool can protect the safety and happiness of the villagers.
    Inside the village, there are nearly 30 ancient schools and temples. Most of the temples and schools were built in the Qing Dynasty (1644-1911). On the walls of the schools, there are many ancient paintings and calligraphies.
    Must-see spots include the feng shui pool, Qingyun Bridge, Renrui Memorial Arch, Youlan Temple, and Jiezhi Pavilion.
    Ancient history
    According to ancient documents, the history of the village can be traced back to a man called Huang Juzheng.
    Born in the Northern Song Dynasty (960-1127), Huang was the No.1 contestant in an imperial examination for military officials. However, because of some political disputes, Huang and his wife brought their whole family to Guangdong Province to hide away from their enemies and to avoid conflicts. Since then, the Huang family expanded throughout the area.
    After seven generations in Guangdong, one of the descendants, Huang Shiming, built Langtou Village. Even today, the villagers still tell the story of how Huang Shiming found the great place to build the village for his children.
    The current village and buildings were built by another descendant, Huang Zongshan. He expanded the village to today's size and made land use plans so that later generations could build their houses in the village as well, Huang Xianbiao, a villager, explained.
    Ancient culture
    Another highlight of Langtou Village is its education culture.
    "Langtou Village has a large number of ancient scholars and government officials. Education played an important role in villagers' lives, which is reflected by the large number of schools in the village," Huang Xianbiao said.
    Since the village was built, more than 14 people passed the highest imperial examinations and 19 people passed the provincial-level examinations in the Ming and Qing dynasties. "This is very rarely seen among villages in Huadu and in Guangdong Province," Huang Xianbiao said. (Wang Yuanyuan)