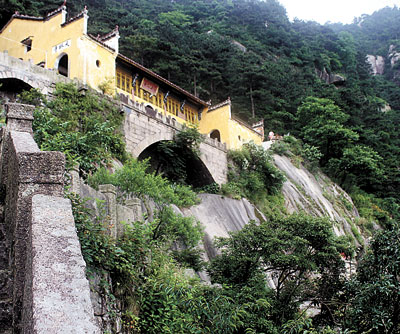 James Baquet
    jamesbaquet@gmail.com
    IT turned out that my struggle up to Tiantai Temple on Jiuhua Mountain was the easy part. I had been informed (incorrectly, as it turned out) that the next temple on my list was between the top of the mountain and the bottom. Best to walk down, I thought.
    Wrong. In fact, it was at the bottom — just 150 meters from the cable car station where I had gone up!
    But by walking down I saw some wonderful sights. The 4 to 5 kilometer trail of stairs passed numerous small temples — some in caves — and monastics (mostly nuns) farming on precipitous mountainsides.
    First, just below Gubaijingtai, was Guanyin Peak, which, naturally, featured images of Dizang, the patron of Jiuhua Mountain, as well. Beginning my descent in earnest, I encountered numerous places where the stairs had been washed out, and workmen were making repairs. Chatting with some of them provided my only excuse for much-needed rests.
    My next encounter was Heaven's Bridge Chan Temple. Heaven's Bridge indeed! It clung to the hillside, and the trail actually arched into space! Then I passed through an odd little cave before reaching Morning Sun Nunnery, with carvings in the native stone inside.
    Next, I passed a nun winnowing grain the old-fashioned way at Rejuvenating Nunnery, and another ancient one sunning herself in the doorway of the aptly named Long Life Ancient Cave.
    Finally, nearing the flats, I passed the larger and more-prosperous-looking Auspicious Temple before, knees throbbing, I reached Huiju (Abode of Wisdom) Temple, my destination.