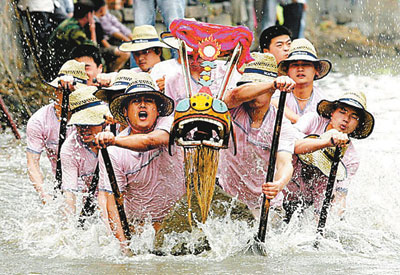 DRAGON Boat Festival, falling on June 2 this year, is a historic Chinese festival that occurs on the 5th day of the 5th month of the traditional Chinese calendar. The festival commemorates the patriotic poet Qu Yuan (340-278 B.C.). Since ancient times, the Dragon Boat Festival has been a joyful time of family reunions. This year, why not take your family on a tour around the country to experience a traditional Chinese lunar festival in some beautiful cities and towns.
    ———————————————
    Daojiao,
    Guangdong Province
    Daojiao in Dongguan is an ideal0 place to experience Dragon Boat Festival traditions in southern China.
    As a town built beside the river, Daojiao has a long history of dragon boat races. According to local customs, a grand race will be held on May 30 this year.
    Meanwhile, an annual folk festival will also be held at the town's Jichuan Square during this year's festival. The festival features traditional races and well-known delicacies such as zongzi, meatballs and rice noodles.
    Other recommended historic sites in Daojiao include Weihuan Tower, Hongqiao Bridge and the Daojiao Tombs. Among these, the Weihuan Tower is a must-see spot.
    Originally built during the Ming Dynasty (1368-1644), the tower was rebuilt in 1932 to bless scholars. Although the statue of Wenchangdi was destroyed in a fire, the 15.1-meter traditional Cantonese-style tower still stands in the town's central park.
    Transport: Take a coach to Daojiao from Shenzhen coach stations and take a taxi to Jichuan Square.
    —————————————————————
    Dinghu Mountain,
    Guangdong Province
    Dinghu Mountain in Zhaoqing City, Guangdong Province, is known as the green gem of the Tropic of Cancer. Established in 1956, Dinghu Mountain National Nature Reserve was the first nature reserve in China.
    Its peaks rise above ancient towering trees, waterfalls, fresh air, a variety of birds and colorful flowers. Since ancient times, it has been a tourist attraction and is a sacred mountain for Buddhists. Its shrines attract up to 1 million visitors a year. Qingyun Temple, built in 1633, is one of the four most renowned temples in southern China.
    The mountain is regarded as a living natural museum and a green treasure house. It is home to more than 500 species of plants, including 23 rare species in imminent danger and under State protection. Many evergreen broad-leaf-forests in this south subtropical zone are under protection.
    Another recommended place to visit in Zhaoqing is Qixing Cave.
    A traditional festival delicacy for Dragon Boat Festival is zongzi — glutinous rice dumplings wrapped in bamboo leaves. In Zhaoqing, a special kind of zongzi, known as "guozhenzong," is a must try. The main fillings include high-quality glutinous rice, green beans and pork.
    Transport: Take a bus to Zhaoqing from Shenzhen coach stations and take a taxi to the mountain.