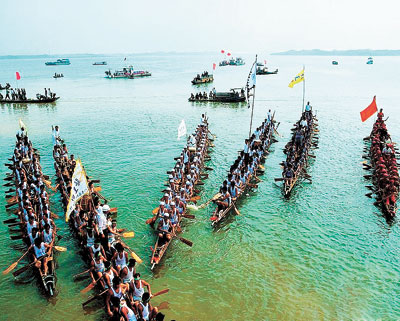 DRAGON Boat Festival, falling on June 2 this year, is a historic Chinese festival that occurs on the 5th day of the 5th month of the traditional Chinese calendar. The festival commemorates the patriotic poet Qu Yuan (340-278 B.C.). Since ancient times, the Dragon Boat Festival has been a joyful time of family reunions. This year, why not take your family on a tour around the country to experience a traditional Chinese lunar festival in some beautiful cities and towns.
    Yueyang Tower,
    Hunan Province
    The Yueyang Tower, one of the three great towers of China, is situated at the western gate of Yueyang Ancient City, Hunan Province, overlooking Dongting Lake and the Yangtze River. It has long enjoyed the reputation of being the "first tower under heaven," since Dongting Lake is known as the "first water under heaven."
    It is said that the site was originally an inspection platform for general Lu Su of the Wu Kingdom (222-250) to train his naval troops. The tower has special architectural features. Its main building is three stories high, 14 meters, with four wooden pillars for support.
    Nearby, a Dragon Boat Cultural Festival is held during the festival every year. This year, more than 20 dragon boat teams across the country have been invited to attend the race, while traditional zongzi of all different kinds will be offered to visitors.
    Other recommended places in the neighboring area include Changsha City, Shaoshan Mountain and Hengshan Mountain.
    Transport: Fly to Changsha from Shenzhen airport and take a coach to Yueyang.
    Chaozhou,
    Guangdong Province
    Chaozhou is one of the most historic cities in Guangdong Province and retains much of its traditional culture. Situated in the eastern part of the province along the coast, there are mountains around the area and hundreds of scenic areas such as ancient walls, temples, bridges and pagodas in the unique Chaozhou style.
    Guangji Bridge, one of the four most famous bridges in ancient China, is a must-see scene in Chaozhou. On one side of the bridge is a stone tablet inscribed with four Chinese characters that read: Floods Stop Here. Legend says that the inscription was written by Han Xiangzi, one of the Eight Immortals. Therefore, the bridge also has another name, Xiangzi Bridge.
    Other historic sites include Kaiyuan Temple and Memorial Arch Street.
    Chaozhou is also a city famous for traditional snacks. Recommended dishes include beef meatballs, wonton, duck porridge, beef hotpot, zongzi, and marinated tofu.
    Transport: Take a coach to Chaozhou at Shenzhen coach stations.
    (Wang Yuanyuan)